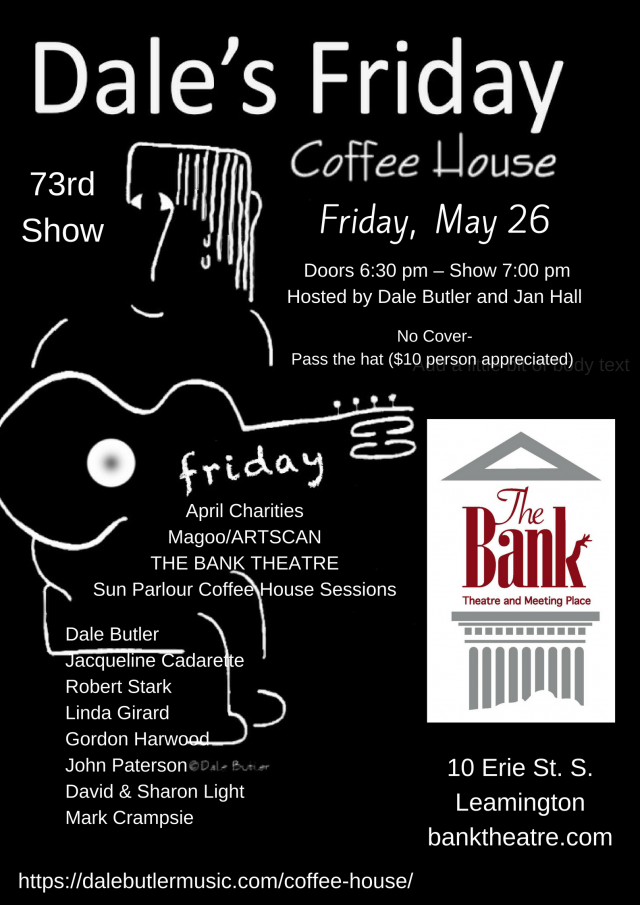 Dale's Friday Coffee House on Friday, May 26, hosted by Dale Butler and radio personality Jan Hall from Folk Roots Radio.
DOORS 6:30PM SHOW 7PM
*There is no cover charge ($10.00 per person is our Wish) for a great evening with the Best Local Entertainers. This month we are supporting Magoo/Artscan, Sun Parlour Coffee House Sessions and the sound system fund at The Bank Theatre and Meeting Place.
Come out for a great night of Acoustic Music, Refreshments, and Community!
MUSICIANS
Dale Butler
Jacqueline Cadarette
Robert Stark
Linda Girard
Gordon Harwood
John Paterson
David & Sharon Light
Mark Crampsie
The Bank Theatre and Meeting Place and Meeting Place
10 Erie St. S. Leamington, Ontario
www.banktheatre.com
Location
The Bank Theatre and Meeting Place
10 Erie Street South
Leamington, Ontario