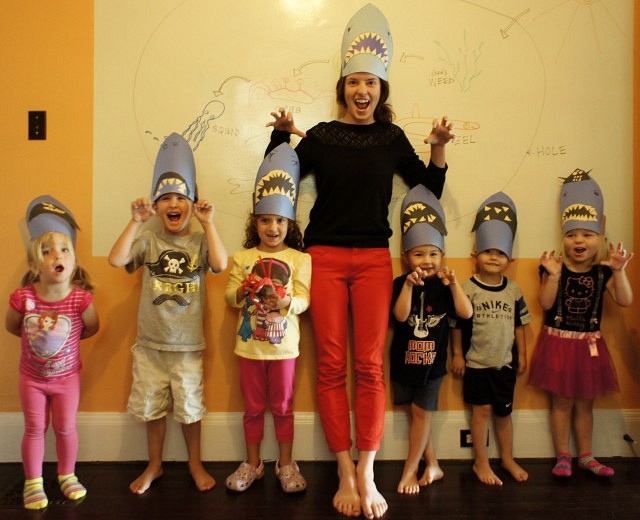 Crafty Jammers Preschool Classes at InTune | Ages 3–5
Teachers: Joanna Shultz and Rachael Watson
Crafty Jammers is a creative arts class for preschoolers. A lifelong love and aptitude for the arts begins at this age through exploring music, storytelling, movement and art. To develop foundational music skills (keeping a beat, singing in key), a strong focus is placed on active music making. Every child will explore a variety of instruments such as piano, guitar, drums, and many percussive instruments. Through fun and engaging songs and activities, kids naturally develop pre-academic skills (counting, letter recognition, patterns) and social skills (turn-taking, manners, interaction). Multi-sensory art projects offer kids a way to express thoughts, feeling and emotions in a creative way while developing fine and gross motor skills.
–
"Christmas Countdown"
Session 1: Tuesday mornings | December 2–16 | 9:30am–10:45am
Session 2: Saturday mornings | December 6–20 | 10:15am–11:30am
This December we'll be counting down the days until Christmas by celebrating the season by getting creative with music and art. We'll be singing jolly Christmas songs, reading Yuletide stories, and making fun holiday crafts!
Cost: $56 for each 3-week session
–
"DIY Musical Instruments"
Session 1: Tuesday mornings | January 6–March 9 | 9:30am–10:30am
Session 2: Saturday mornings | January 10–March 14 | 10:15am–11:15am
In our first semester of 2015, we'll be exploring the wonderful world of musical instruments! We will be learning about, playing, and making our own musical instruments each week! Music time will include primary music skills such as counting, keeping a steady beat, rhythm playback, learning the musical alphabet, singing, and more!
Cost: $150 for each 10-week session
–
Register now by calling InTune at 226-246-6463
More details at www.intunewindsor.com/crafty-jammers-preschool-class
–
Note: We require that your child be toilet trained to attend our classes.
Location
InTune Windsor
1971 Ottawa Street
Windsor, Ontario