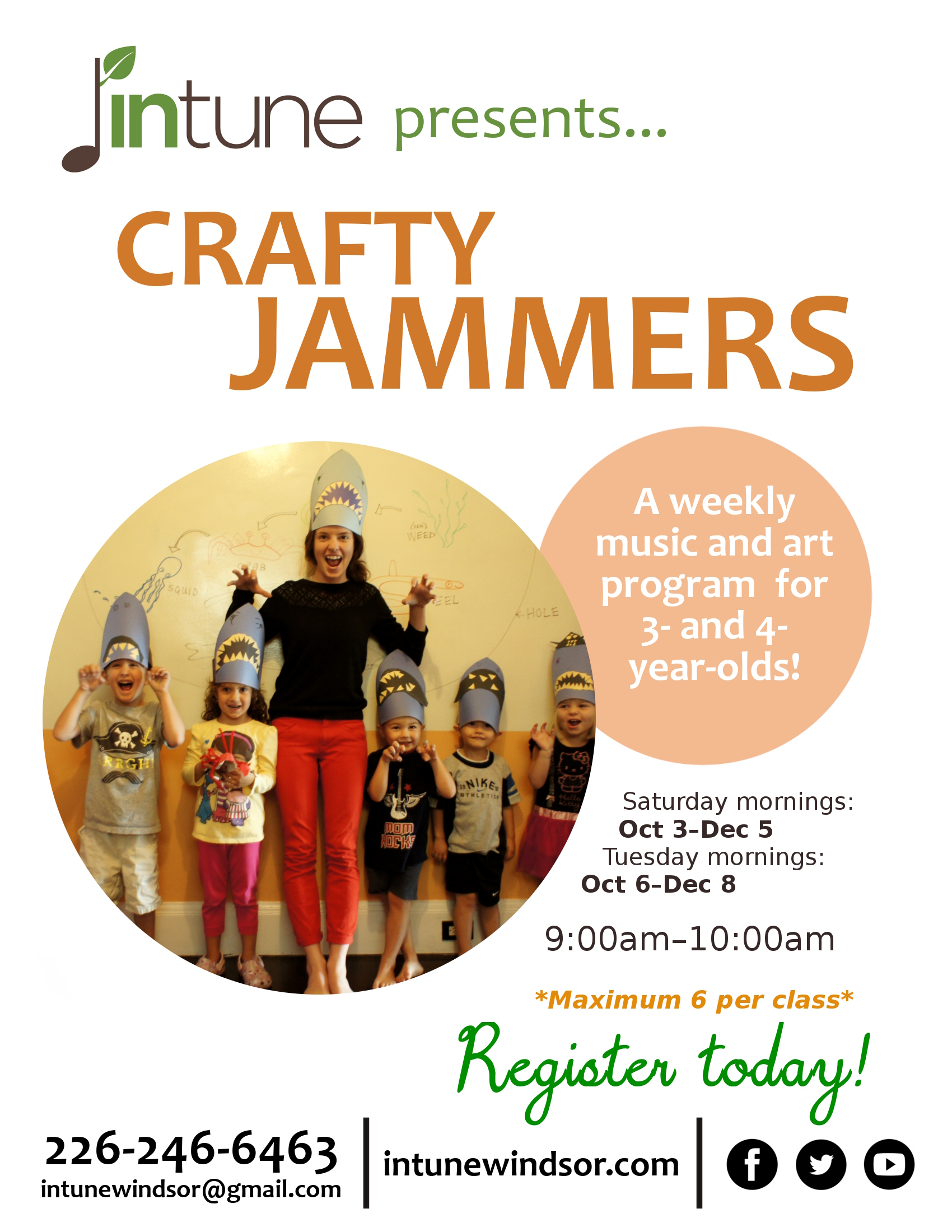 Crafty Jammers at InTune | Music/Art Class for ages 3-4 (Tues and Sat sessions)
Crafty Jammers is a creative arts class for preschoolers. A lifelong love and aptitude for the arts begins at this age through exploring music, storytelling, movement and art. To develop foundational music skills (keeping a beat, singing in key), a strong focus is placed on active music making. Every child will explore a variety of instruments such as piano, guitar, drums, and many percussive instruments. Through fun and engaging songs and activities, kids naturally develop pre-academic skills (counting, letter recognition, patterns) and social skills (turn-taking, manners, interaction). Multi-sensory art projects offer kids a way to express thoughts, feeling and emotions in a creative way while developing fine and gross motor skills.
–
FALL 2015:
"Autumn, Winter and Christmas, OH MY!"
Session 1: Saturday mornings | Oct. 3–Dec. 5 | 9:00am–10:00am (1 space remains)
Session 2: Tuesday mornings | Oct. 6–Dec. 8 | 9:00am–10:00am
In our fall semester of Crafty Jammers, kids will have fun moving, singing and crafting as we learn all about the changing seasons and the fun autumn and winter holidays!
–
Note: We require that your child be toilet trained (or be wearing a pull-up if toilet training is in progress) to attend our classes.
–
intunewindsor.com
facebook.com/intunewindsor
[email protected]
Location
InTune
1971 Ottawa Street
Windsor, Ontario