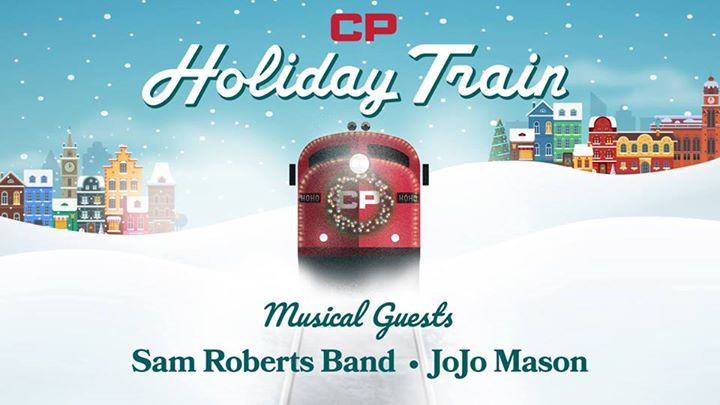 The Canadian Pacific (CP) Holiday Train will soon set out once again to entertain hundreds of thousands of people, celebrating 20 years of collecting food and raising funds for food banks across North America.
The CP Holiday Train program launched in 1999 and has since raised more than C$14.5 million and gathered 4.3 million pounds of food for communities along CP's routes in Canada and the United States. Every pound and dollar raised at each stop stays with the local food bank to help feed those in need in that community.
Arrive: 5:20 PM
Ends: 6:30 PM
****PERFORMERS****
Sam Roberts Band
Sam Roberts Band is a rock band based out of Montreal, Canada. On October 5, 2018, Sam Roberts announced the worldwide deluxe reissue of the Juno Award-winning debut album We Were Born In A Flame. The 2018 edition marks fifteen years since the album was first released in 2003 and includes original demos and previously unheard songs with an entire extra disc added for both CD and vinyl editions remastered by one of Canada's most distinguished sound engineer's, João Carvalho.
JoJo Mason
JoJo's music is about having fun, appreciating life and sharing stories. It is passionately country, but with no fear of a deep groove, fresh lyric or original melody. He will charm you with his personality, wow you with his beat boxing, earn your respect with his work ethic, inspire you with his character and compassion, elicit a smile with his message but most importantly, JoJo will sweep you off your feet with his voice. From a moonshine slinging, shower singing prairie boy to Canada's next country music sensation.
**** TICKETS ****
All events are free. We just ask event attendees to bring money or a heart-healthy donation for their local food bank.
Location
1039 Janette Avenue
Windsor, Ontario