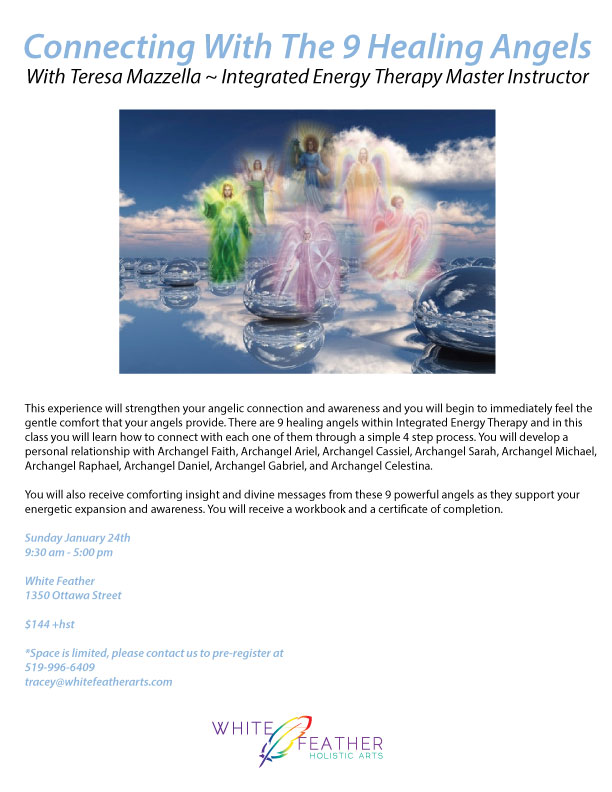 Connecting With The 9 Healing Angels
With Teresa Mazzella ~ Integrated Energy Therapy Master Instructor
This experience will strengthen your angelic connection and awareness and you will begin to immediately feel the gentle comfort that your angels provide. There are 9 healing angels within Integrated Energy Therapy and in this class you will learn how to connect with each one of them through a simple 4 step process. You will develop a personal relationship with Archangel Faith, Archangel Ariel, Archangel Cassiel, Archangel Sarah, Archangel Michael, Archangel Raphael, Archangel Daniel, Archangel Gabriel, and Archangel Celestina.
You will also receive comforting insight and divine messages from these 9 powerful angels as they support your energetic expansion and awareness. You will receive a workbook and a certificate of completion.
Sunday January 24th
9:30 am – 5:00 pm
White Feather
1350 Ottawa Street
$144 +hst
*Space is limited, please contact us to pre-register at
519-996-6409
[email protected]
Location
White Feather Holistic Arts
1350 Ottawa St
Windsor, Ontario