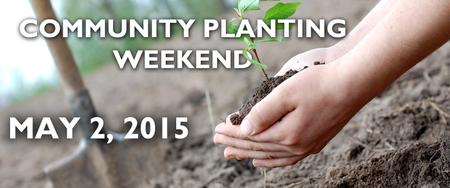 Play a part in "greening" your local community by joining Forests Ontario, CAA South Central Ontario, TD Friends of the Environment Foundation, City of Windsor and Essex Region Conservation Authority, on May 2nd for the annual Community Planting Weekend. This half-day planting event takes place in a public space and brings together families, friends and community members for a chance to contribute to a meaningful project that offers vast environmental benefits for all Ontarians! Participation helps build awareness around the importance of trees, which clean our air, improve water supplies, foster wildlife habitat, contribute to human health and provide a buffer against the effects of climate change.
Time: 10am – 12pm
What to Bring: To participate in this family-friendly event, bring a shovel, gardening gloves and lots of energy!
What We Will Bring:We will supply the rest – the trees, forestry specialists, mulch and snacks.
Parking: There will be no official parking available at the site.
Space is limited and pre-registration is appreciated.
To register online, go to http://goo.gl/Xw1E7X
For more event information please visit: http://www.forestsontario.ca/index.php/annual_community_plant
Location
Lakeshore Woods
Firgrove Drive between Chateau Ave and Banwell Road
Windsor, Ontario