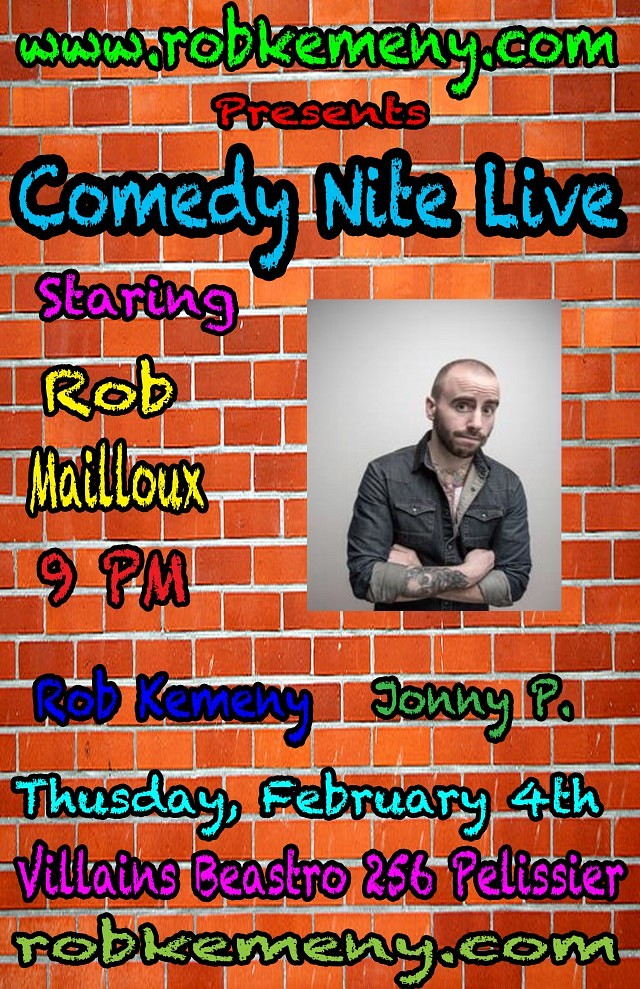 www.robkemeny.com and The Windsor Comedy Scene Presents Comedy Nite Live at Villains Beastro. On this month show we have
Rob Mailloux
Rob was born to a presumably unwed teenage mother who quickly sold him to an infertile family in Windsor, Ontario. Immediate rejection armed him with the ability to find humour in human tragedy, especially his own.
25 years later Rob was touring across Canada with comedy legend Doug Stanhope. As well as touring with Legit star Jim Jefferies and appearing on popular podcasts, Doug Loves Movies, Bertcast and Legion of Skanks.
He hosted a show for former WWE performer Mick Foley and Australian comedian Brendon Burns at the Montreal Just for Laughs festival. As well as two dozen shows at the first two JFL42 festivals and the Vancouver Comedy Fest.
Rob also started the Dark Comedy Festival in 2010 which has since featured Dave Attell, Jim Jefferies, Jim Norton, Maria Bamford and others.
His DVD My Mother Would be Proud has gone Canadian Platinum (over 100 copies). And in 2013 was chosen from hundreds on Daily Motion to perform in the Montreux Comedy Festival in Switzerland.
Also on the show
Rob Kemeny
Jon Paledeau
9pm Pay What You Can.
Location
Villains Beastro
256 Pelissier
Windsor, Ontario