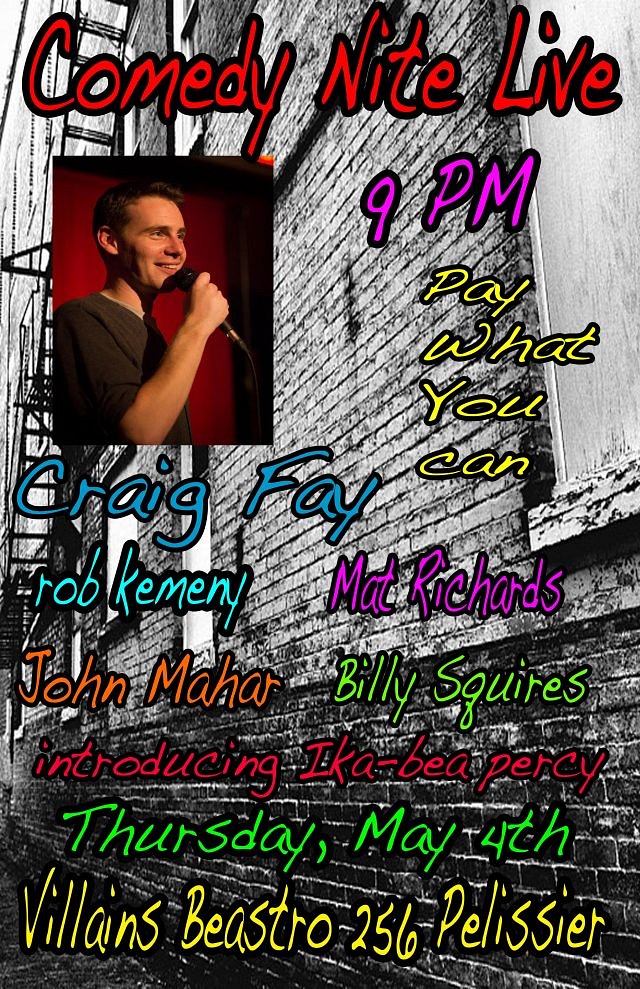 This Month on Comedy Nite Live we have from Toronto Craig Fay
Craig Fay is a mild mannered engineer by day and stand up comedian by night. Comparisons to superheroes are both welcomed and encouraged at this point.
In fact his comedy powered super adventures have lead him to perform at the world famous Just For Laughs Festival in Montreal, and saw him named Toronto.com's Funniest Torontionian.
He's even gone full multimedia, appearing on television (iChannel's No Kidding), radio (CBC's Laugh Out Loud) and has even written a humourous guest blog for Scientific American.
For a regular dose of his comedic musings you can follow him on twitter (@CraigFayComedy), like him on Facebook (/CraigFayComedy), visit his website (CraigFay.com) or just Google him. You'll probably just Google him.
Also on the show
John Mahar
Robert Kemeny
Mat Richards
and Introducing Ika-Bea Percy
Hosted By Billy Squires
9pm
Pay What You Can
Location
Villains Beastro
256 Pelissier Street
Windsor, Ontario