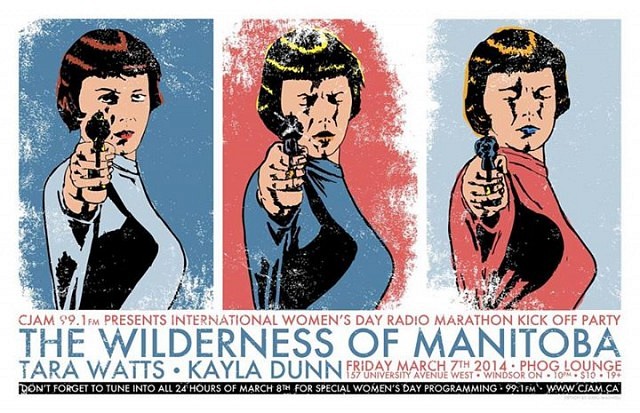 CJAM FM 99.1 FM Presents:
International Women's Day Radio Marathon Kick-Off Party
Friday, March 7th // 2014
The Wilderness of Manitoba
Tara Watts
Kayla Dunn
Phog Lounge – 157 University Ave. West – 10$ // 10PM // 19+
Don't Forget To Tune In All 24 Hours Of March 8th For Special Women's Day Programming!
99.1FM // www.cjam.ca
About The Acts:
The Wilderness of Manitoba:
The Wilderness of Manitoba is one of those bands that is constantly evolving. As it starts a new chapter in its creative life, vocalist/multi-instrumentalist Will Whitwham explains, "Every band is a collective whose body of work is defined by those involved at certain points in time. I've often written songs intended for specific people and their strengths." With vocalist/violinist Amanda Balsys and bassist Wes McClintock now fully integrated into the Toronto-based band, there is more of an emphasis on Whitwham and Balsys' duo lead vocals and the more dynamic rhythm section. Balsys also brings another songwriting voice and a wide range of influences. Drummer Sean Lancaric says, "This band always has and always will rely on inspiration to produce anything. New voices start new conversations."
Tara Watts:
Tara Watts is a border-city gal that will be moseying up the 401 to the GTA in the next few months to intensify her efforts of world domination through the art of rock. After years of local and performances abroad as a solo musician and proud member of The Locusts Have No King, Watts has finally returned to the studio to record her second album titled, "Pale Blue Moon" that is to be released 2014.
Kayla Dunn:
Kayla Dunn is a soulful yet intimate sounding Indie/Folk artist based in the city of Toronto, where she has performed at various venues such as Rancho Relaxo, The Rivoli, Aspetta Café, and The Opera House. With roots in musical theatre, growing up in Windsor Ontario Kayla expanded into playing at clubs and bars in the local music scene there. Her influences range from 60's icon Janis Joplin to modern day artists such as Feist and Grimes, although she does not limit her musical inspirations to one specific genre. Kayla has been working on her upcoming EP 'Fields' for about a year, having written and composed all 5 original songs. With the essence of the EP having a carefree, flowing vibe, the hit single "Black Cat" is no different. Black Cat draws upon Kayla's experience of leaving a long-term relationship and breaking free into finding herself, gaining a limitless perception of her world. What to expect for the future? This won't be the last you hear of Kayla Dunn, with her full EP FIELDs just released and more performances around the city, Kayla's raw, passionate music is ready to be shared with the world.
Location
Phog Lounge
157 University Avenue West
Windsor, Ontario