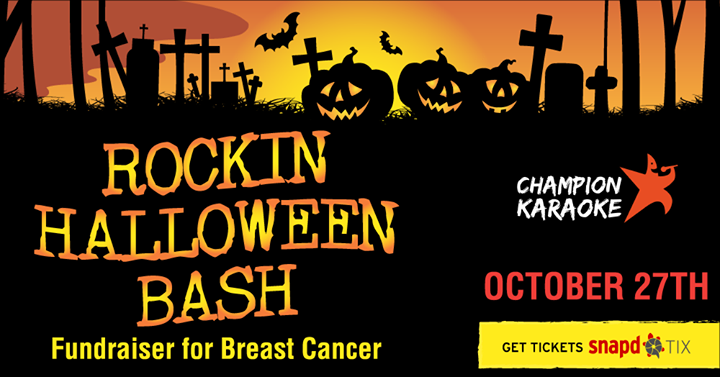 Join us this year for our first Halloween Karaoke Bash with all proceeds going to the Breast Cancer Society!
We are making this event happen all weekend long,with silent auction ending Saturday night!
Our awesome Karaoke DJs Friday evening Robert Laramie and Saturday night Pat Ryan will be ready to rock the house with prizes for best singer, funniest costume, cutest costume and scariest!
We all love Halloween so grab some friends and help support THE BREAST CANCER SOCIETY, with a silent auction, door prizes and a Mystery song too!We will be giving away clues to a song and the first person that sings that song will win a prize!
Food is available for purchase as well and full bar too for an awesome night!
$3.00 SHOOTERS and BOMBS
$4.00 WELLS
$28.99 COMBO PLATTER AND PITCHER OF BEER
Can't wait have some fun with you while help making a difference in someone's life!
Tickets are available at the door $10 or 2 for $ 15, also available online at https://windsor.snapd.com/events/view/1088321
Location
Champion Karaoke
215 Eugenie St. W., Unit 103
Windsor, Ontario