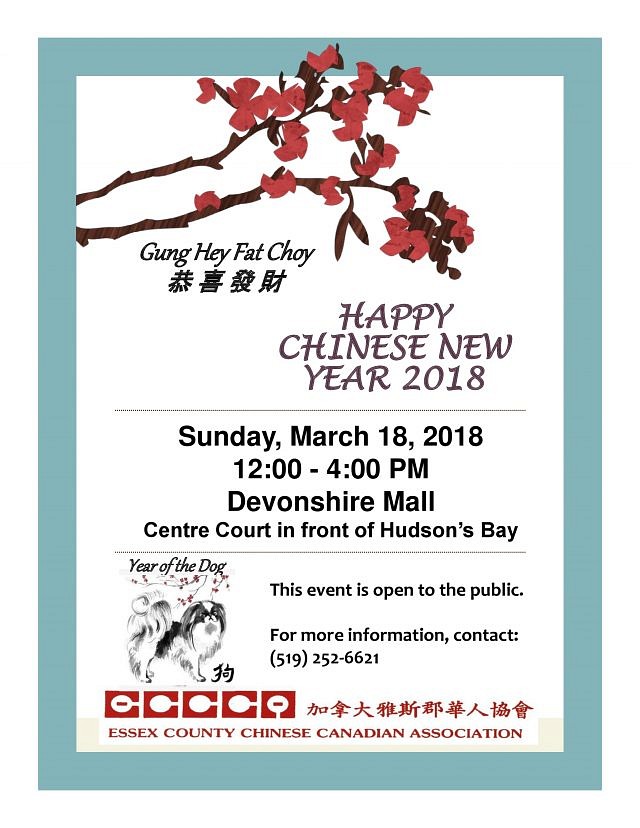 The Lunar Chinese New Year celebrations continue with the Essex County Chinese Canadian Association hosting a public event at Devonshire Mall. This event will top-off the lunar new year festivities that began in February.
Date: Sunday, March 18, 2018
Event: Chinese New Year Celebration (Year of the Dog) at Devonshire Mall
Location: Centre Court in front of The Bay
Time: 12:00 – 4:00 PM
• The festivities open with a traditional Dragon Dance followed by demonstrations of Chinese Canadian arts and culture – highlighting dance, music, and calligraphy.
• Also featured: New Year greetings with the God of Fortune who will be handing Lai Si (lucky envelopes) for children, Instrumental and Vocal Performances, Chinese Folk Dances, Chinese Costume Parades, and Tai Chi performances, and a Children's Arts & Crafts Corner.
• Snacks and beverages will be available.
This celebration is free and open to the public.
For more information, contact the ECCCA at (519) 252-6621.
Location
Devonshire Mall
3100 Howard Avenue
Windsor, Ontario