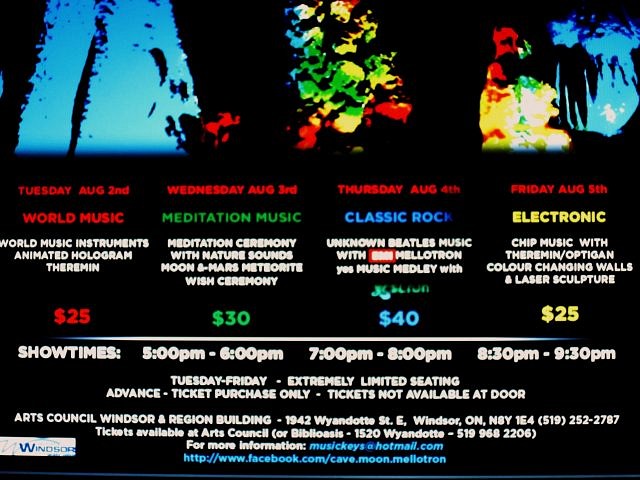 Windsor musician Chris Dale wants to offer you an unforgettable experience: the chance to experience the illusion of sitting in a cave on an alien planet, while enjoying live music performed on an instrument made famous by the Beatles. No, really.
Imagine yourself relaxing amongst driftwood art and actual glowing cave formations that change colour under a starry night sky with the Moon and shooting stars moving across it. Or maybe you would prefer Saturn and Jupiter in the sky. Or the Aurora Borealis. It's possible. Images come from an actual animated planetarium.
Add to that the astral sounds of two Mellotrons – a 1960's keyboard that uses strips of pre-recorded tape to make it's sounds. And not just any two Mellotrons, but the actual Mellotron used by the rock band Yes, and an EMI made Mellotron with Beatles sounds in it.
It's an event not likely to be repeated. If that weren't enough, you can see animated holograms, levitating stones, actual Moon and Mars meteorites, and laser effects depending on the day you go and the music you choose. There's World Music on Aug 5, Meditation Music on Aug 6th, Classic Rock on Aug 7th, and Electronic Music on Aug 8th.
Music performances are 45 minutes long and limited to 3 times an evening starting at 5pm. An educational lecture about the exhibit is available for $20.00 from 2pm -4pm, which is cheaper than the concerts, but seating is limited to 10 seats only.
Tickets are available at Arts Council building – 1942 Wyandotte St E, (519) 252-2787 or Biblioasis – 1520 Wyandotte St. E, (519) 968 2206.
Money from the show goes to preserve the Birotron – rock music's rarest instrument, of which there are only 2 working examples left. For more information contact Chris Dale at [email protected] or visit:
https://www.facebook.com/cave.moon.mellotron/
Location
Arts Council Windsor & Region
1942 Wyandotte Street East
Windsor, Ontario