Date
Saturday March 7th, 2020
Time
9:30am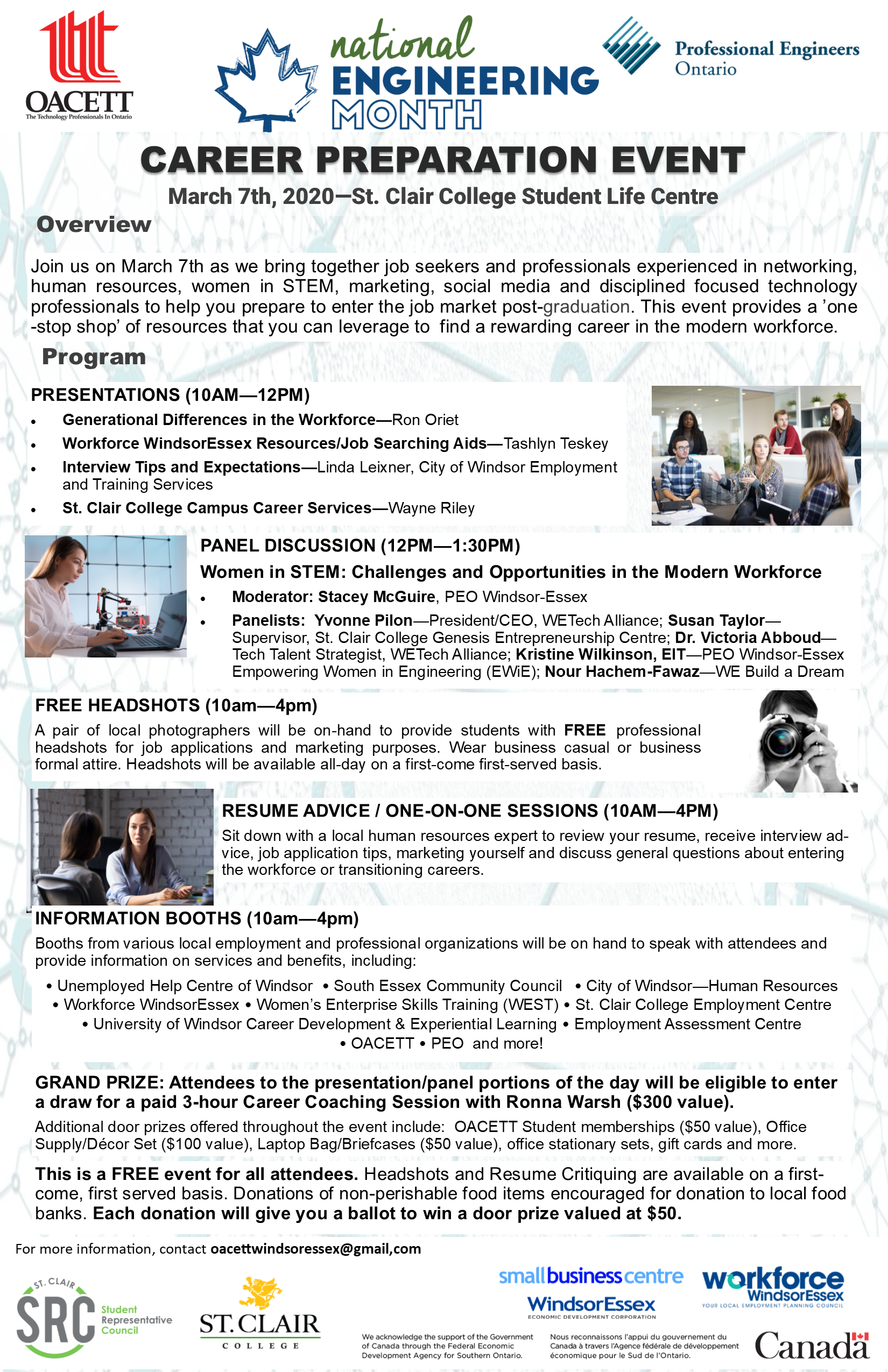 Are you a College or University student, recent graduate, alumni, new Canadian, considering a career transition, or a woman looking to enter the STEM fields? Join us on March 7th as we bring together job seekers and professionals experienced in networking, human resources, women in STEM, marketing, social media and disciplined focused technology professionals to help you prepare to enter the job market post-graduation. This event provides a 'one-stop-shop' of resources that you can leverage to find a rewarding career in the modern workforce.
PRESENTATIONS (10AM—12PM)
Generational Differences in the Workforce—Ron Oriet
Workforce WindsorEssex Resources/Job Searching Aids—Tashlyn Teskey
Interview Tips and Expectations—Linda Leixner, City of Windsor Employment and Training Services
St. Clair College Campus Career Services—Wayne Riley
PANEL DISCUSSION (12PM—1:30PM)
Women in STEM: Challenges and Opportunities in the Modern Workforce
FREE HEADSHOTS (10am—4pm)
A pair of local photographers will be on-hand to provide students with FREE professional headshots for job applications and marketing purposes. Wear business casual or business formal attire. Headshots will be available all-day on a first-come first-served basis.
RESUME ADVICE / ONE-ON-ONE SESSIONS (10AM—4PM)
Sit down with a local human resources expert to review your resume, receive interview advice, job application tips, marketing yourself and discuss general questions about entering the workforce or transitioning careers.
INFORMATION BOOTHS (10am—4pm)
Booths from various local employment and professional organizations will be on hand to speak with attendees and provide information on services and benefits.
GRAND PRIZE: Attendees to the presentation/panel portions of the day will be eligible to enter a draw for a paid 3-hour Career Coaching Session with Ronna Warsh ($300 value).
Additional door prizes offered throughout the event.