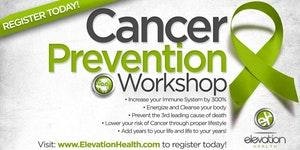 If you, a friend, or a family member has been diagnosed with cancer… this workshop is for you. Also, if you're looking to prevent cancer you'll benefit from the information shared.
Discover how to live a cancer free life naturally!
This event is an incredible workshop for those at risk of having Cancer develop in their bodies. We will be presenting the latest evidence based information in simple and highly actionable way.
The information presented will be life changing and empowering. You will be given an immediate action plan to regain your health and vitality. You can use this approach to compliment your current lifestyle or to help you reduce your risk factors for developing Cancer.
What you'll learn at this Blockbuster Event:
Increase your Immune System by 300%
Energize and Cleanse your body
Lower your risk of Cancer through proper lifestyle
Add years to your life and life to your years
Seating is limited! Get your tickets to this FREE event today.
How Will This Event Change Your Life!
You will no longer fear the big "C'" word because of what you now know
You will now be educated on natural Cancer Prevention Methods
You will leave empowered because you will know how to control the future of your health
Location
Calvary Community Church
1731 Lesperance Road
Tecumseh, Ontario