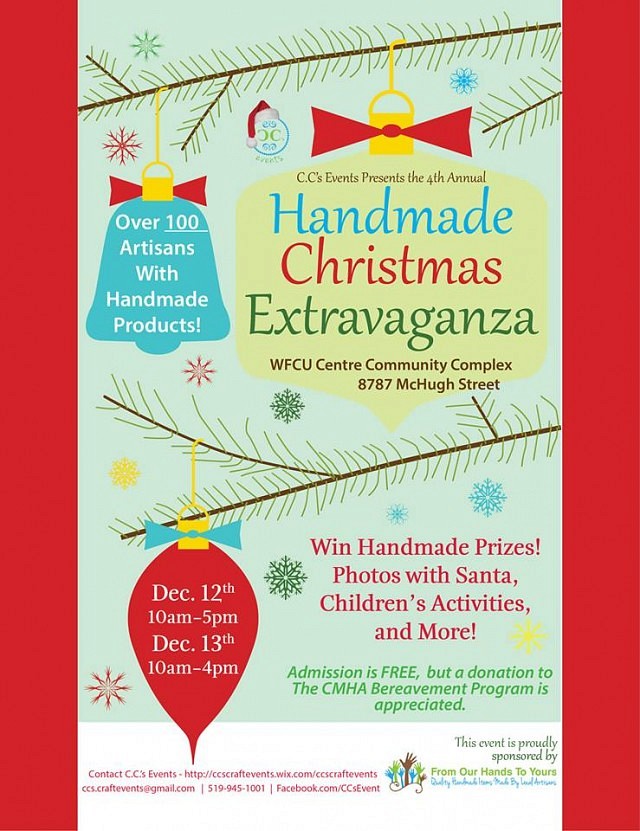 Windsor (ON) – The winter is here, and that means it's time to do some Christmas shopping at C.C.'s Events: 4th Annual Handmade Christmas Extravaganza at The WFCU Centre. You will be able to find home decor, gifts, bath & body products, Christmas decor, stockings, jewelry, wood crafts, pottery, wreaths & florals, gourmet food items, and other great handmade items. You will be sure to find the perfect Christmas gift for everyone on your list, along with some great, unique stocking stuffers! The largest indoor handmade craft show in Windsor-Essex is sure to have something for guys and gals of all ages.
The 4th Annual Handmade Christmas Extravaganza will take over Collavino Hall and the Sports Gym of the WFCU Centre on Saturday, December 12th from 10am-5pm and again Sunday, December 13th, from 10am-4pm. Admission to the event is free, however organizers encourage donations to The CMHA Bereavement Group at the door.
The Bereavement Program at the Canadian Mental Health Association, Windsor-Essex County Branch (CMHA-WECB), provides supportive grief counseling to bereaved individuals, as well as education and consultation to community agencies, groups and the general public. Facilitated support groups based on type of death or relationship to the deceased offer peer support and education which promote understanding of grieving process, as well as learning and implementation of healthy coping strategies.
In less than 4 years, C.C.'s Events has raised $15,126.37 in cash donations and other necessary items for local charities including Street Help, Reach For The Skye, The Blue House, W.Y.C., The Windsor-Essex Humane Society, Welcome Centre, and The Windsor-Essex Ice Bullets.
Parents can also enjoy a fun-filled family day with their kids at the children's activity centre, photos with Santa, and more! Patrons can stop by the raffle table for their chance to win great handmade prizes & Windsor Spitfire tickets.
For the list of vendors that will be present at the Handmade Fall Extravaganza, visit wfcu-centre.com or follow C.C.'s Events on Facebook at www.Facebook.com/CCsEvents .
Anyone who wishes to participate in the 7th Annual Candlelight Service in remembrance of children who have died, are invited to call 519-255-1749 to register. The service will be held at The WFCU Centre on December 13th at 6:30pm.
Location
The WFCU Centre
8787 McHugh Avenue
Windsor, Ontario