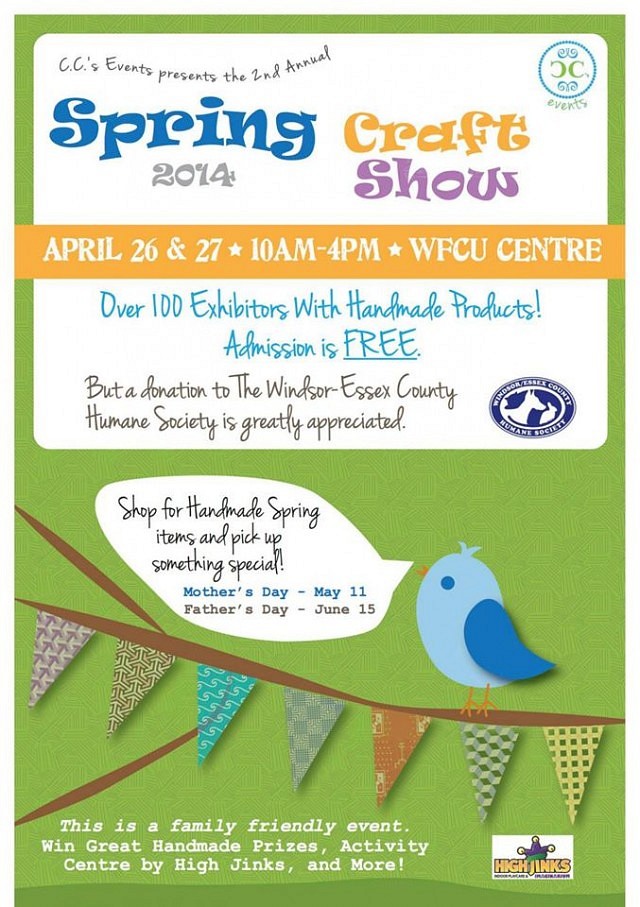 Bring the family out to The WFCU Centre on April 26th & 27th 10am-4pm for C.C.'s Events: 2nd Annual Spring Craft Show!
Featuring over 100 Local Crafters & Artists, With Unique Handmade Items.
Many Items To Choose From, Including: Wood Crafts, Jewellery, Soy & Dessert Candles, Pet Items, Painted Items, Children's Items, Gourmet Food Items, Sport Items, and More! Find Unique Mother's Day & Father's Day Gifts Here!
Children's Activity Centre by "High Jinks", Spring-Themed Photos by "NA Media", Face-Painting By "Always Handpainted", and more!
Admission is Free, but a donation to aid The Windsor-Essex County Humane Society is Encouraged.
You can 'like' us on Facebook: www.facebook.com/CCsEvents , check out our website at: http://ccscraftevents.wix.com/ccscraftevents , e-mail [email protected] or call Chelsey at 519-984-7494.
If you can't make it out to the show, you can find Handmade Items by 60+ Local Crafters & Artists at "From Our Hands To Yours" which opens on May 5th.
Located at 8444 Wyandotte St E. Formerly "Trinkets & Treasures", This Store Has New Owners (C.C.'s Events!!), A New Location, A New Name, and Features Even MORE Local Talent! Support Your Local Crafters!
While we are still figuring our our regular hours, the store will be open starting May 5th 10am-6pm Monday to Friday & 10am-4pm Saturday. These hours could change starting in June, but will be consistent for all of May. We will be open Mother's Day 10am-4pm to allow for last-minute Mother's Day gift ideas.
On May 5th, there will be a Mother's Day glass painting workshop hosted by Melissa of "Always Handpainted" at "From Our Hands To Yours".
In this workshop, children will be able to paint either a wineglass or a juice glass (please advise which type you prefer when registering) for Mother's Day, using teacher-provided stencils. They will also illustrate & sign a Mother's Day card to include with the glass.
The glasses will be baked, gift-wrapped, & returned to the store by May 9th/10th for pick-up.
The fee is $20/child (Includes all materials & glasses)
Ages 6+
Must pre-register by May 2nd to participate. $10/child due upon registering + the remaining $10/child is due at the workshop.
Minimum 5 people will be required for the workshop to take place, maximum 12 children per workshop.
Please pre-register your child by e-mailing [email protected] or call Chelsey at 519-984-7494. You can also 'like' us on Facebook: www.facebook.com/FromOurHandsToYoursWindsor
Location
The WFCU Centre
8787 McHugh Avenue
Windsor, Ontario