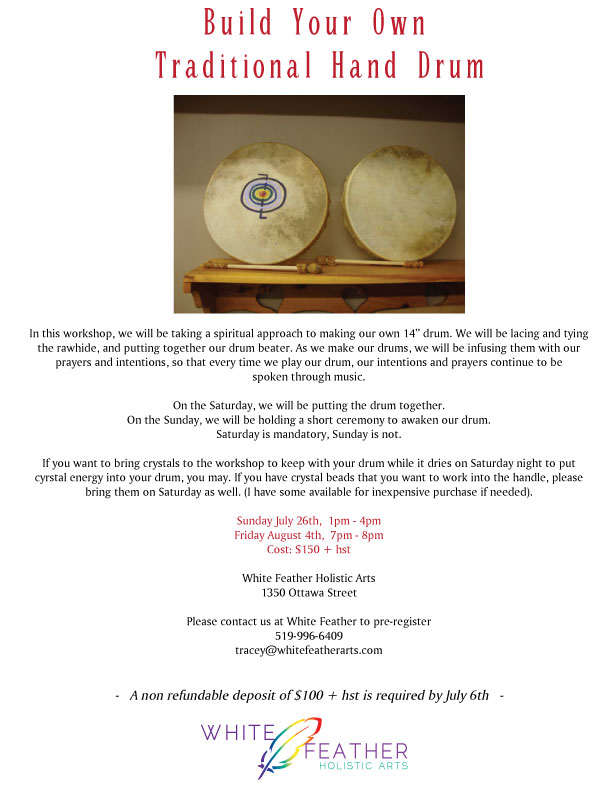 A non-refundable deposit of $100 +hst is needed by July 6th
In this workshop, we will be taking a spiritual approach to making our own 14" drum. We will be lacing and tying the rawhide, and putting together our drum beater. As we make our drums, we will be infusing them with our prayers and intentions, so that every time we play our drum, our intentions and prayers continue to be spoken through music.
On Sunday July 26th we will be putting the drum together.
On Tuesday Aug 4th we will be holding a short ceremony to awaken our drum.
Sunday July 26th is mandatory, Aug 4th is not.
If you want to bring crystals to the workshop to keep with your drum while it dries to put crystal energy into your drum, you may. If you have crystal beads that you want to work into the handle, please bring them on Sunday as well. (I have some available for inexpensive purchase if needed).
Sunday July 26th 1pm – 4pm
Cost: $150 + hst
Please contact us at White Feather to pre-register
519-996-6409
[email protected]
– A non refundable deposit of $100 + hst is required by July 6th, 2015 –
Location
White Feather Holistic Arts
1350 Ottawa Street
Windsor, Ontario