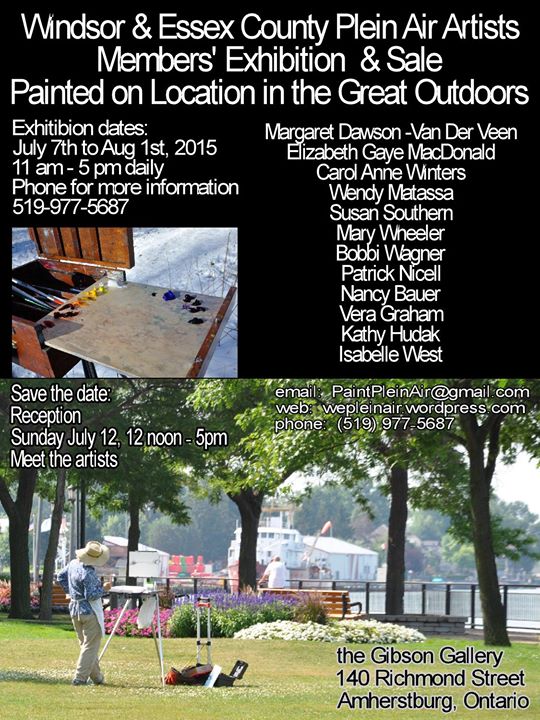 Meet the Artists' Reception!
Twelve of Windsor & Essex County Plein Air Artists are hosting a group show a the Gibson Gallery during the month of July.
They are:
Margaret Dawson -Van Der Veen
Elizabeth Gaye MacDonald http://photographerpainterprintmaker.com/
Carol Anne Winters
Wendy Matassa https://wepleinair.wordpress.com/members/wendy-matassa/
Susan Southern
Mary Wheeler (Fall)
Bobbi Wagner
Patrick Nicell
Nancy Bauer
Vera Graham http://www.veragraham.com/
Kathy Hudak
Isabelle West
While they are by no means all the artists that join us on a weekly basis, I would describe these artists as core members of the group. They attend as many paint outs as possible, some of them in the dead of winter.
Join us on a lovely July 12th Sunday afternoon at the Historic Gibson Gallery In Amherstburg Ontario
for more information email or message Elizabeth Gaye MacDonald at [email protected]
Location
Gibson Gallery
140 Richmond
Amherstburg, Ontario