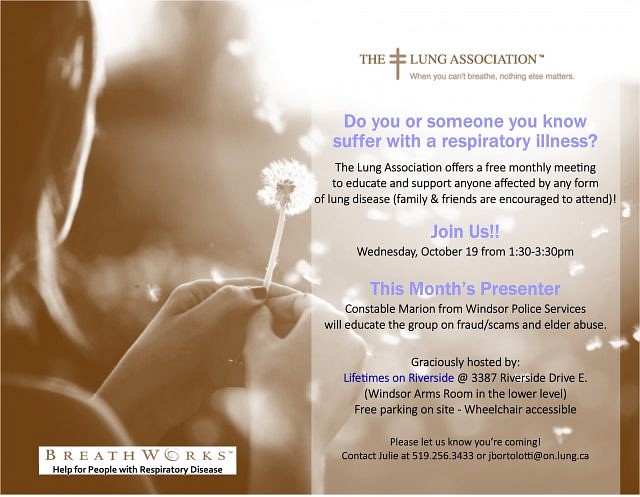 Do you or someone you know suffer with a respiratory illness?
The Lung Association offers a free, friendly, informal and welcoming monthly meeting to educate and support anyone affected by lung disease (caregivers, family & friends are encouraged to join us as well)!
On Thursday, October 19 we will welcome Constable Marion from Windsor Police Services to talk to attendees about how to identify (and prevent) people who are trying to "scam" us or are committing fraud, as well as about elder care and abuse. If time permits, he'll touch on Powers of Attorney and their importance as well.
These monthly meetings are graciously hosted by Lifetimes on Riverside @ 3387 Riverside Drive E. (Windsor Arms Room in the lower level). Free parking on site and wheelchair accessible.
These sessions are not limited only to people living with lung disease. If you feel the talk will be beneficial, please feel welcome to join us. We just ask that you call us at 519-256-3433 to let us know you're coming!
Location
Lifetimes on Riverside
3387 Riverside Drive East
Windsor, Ontario