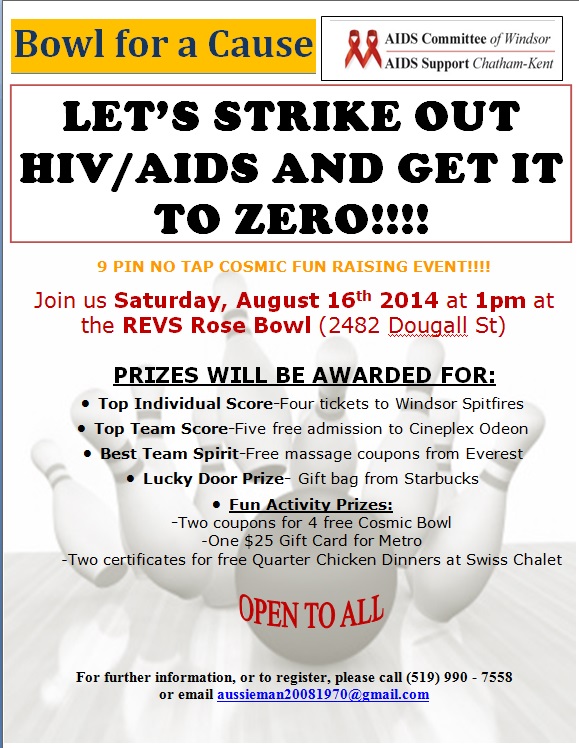 Are you looking for a fun eventful day with friends and families?
"Bowl for Cause" 9 Pin No Tap Charity Event
Let's Strike Out HIV/AIDS and get to ZERO!
WHEN: Saturday August 16th, 2014
WHERE: REV'S Rose Bowl (2482 Dougall St)
Registration Opens at 12pm; Tournament Begins at 1pm
• You don't have to be a good bowler….anyone can join, any age, and any skill.
• Prizes: top team score, top individual score, and best team spirit.
• Fund Raising Commitment ($28.00/person) includes 3 games, shoes & pizza!
• Up to 4 to 5 people per team per lane
• Free parking and accessible for public transport
All proceeds benefit the AIDS Committee of Windsor/AIDS Support Chatham AIDS Committee of Windsor (ACW) Asck Chatham Kent
COME OUT TO A FUN EVENT WITH FAMILY OR FRIENDS AND SUPPORT A GOOD CAUSE!!
For Registration Information Please contact Peter Elsley @ (519)990-7558 or [email protected]
Location
REVS Rose Bowl
2482 Dougall Street
Windsor, Ontario