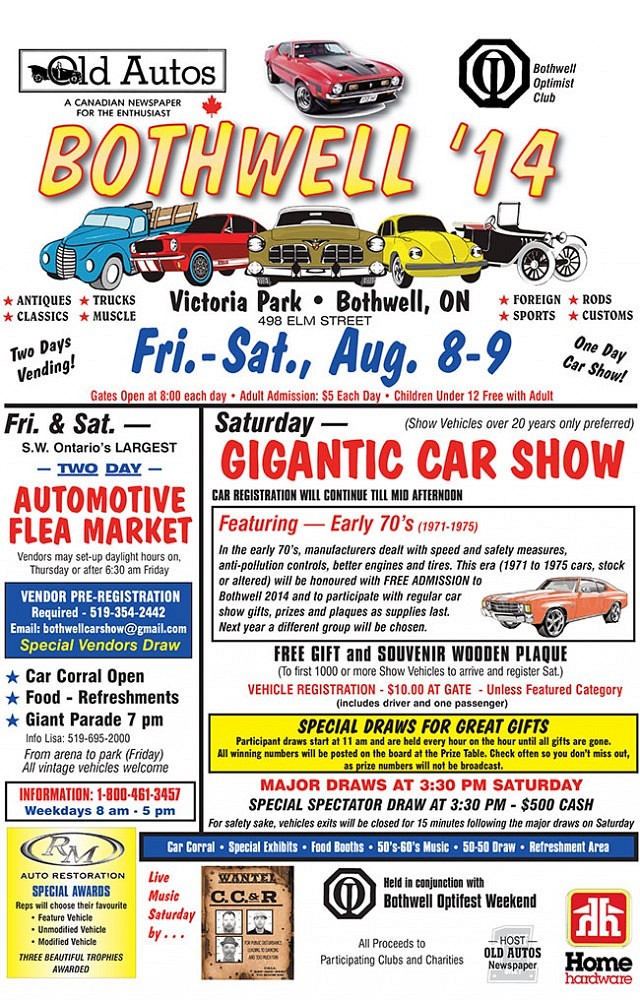 Car Show – Aug 9, one of the largest one day car shows in Southwestern Ontario with 1200 cars. Featuring this year Early 70's (1971-1975), this era will be honoured with FREE ADMISSION.
Automotive Flea Market – Aug 8-9. Opens at 8:00 am on Friday and closes on Saturday at 4:00 pm. Vender must pre-register at 519-354-2442 or email:[email protected], automotive related goods only please.
Car Corral – Aug 8-9. Opportunity to purchase that vintage car you are looking for, for sale.
Parade on Friday – Aug 8. All vintage vehicles welcomed, if you have a company vehicle or a float you would like to enter please contact Lisa at 519-695-2000 for more information.
Gates open at 8:00 am each day. Admission is $5 for adults and children under 12 are free. Vehicle registration is $10 at the gate on show day.
Other events; inflatable ride and games, 50/50 draw, Charity Vintage Car Raffle displays, food and refreshments.
Brought to you by Bothwell Optimist and Old Autos – A Canadian Newspaper for the Enthusiast.
All proceeds to participating clubs, church groups and charities.
For more information call 1-800-461-3457 or visit http://www.oldautos.ca/CarShow.aspx. We are always on the first Friday and Saturday after the Civic Holiday.
Location
Victoria Park
498 Elm St