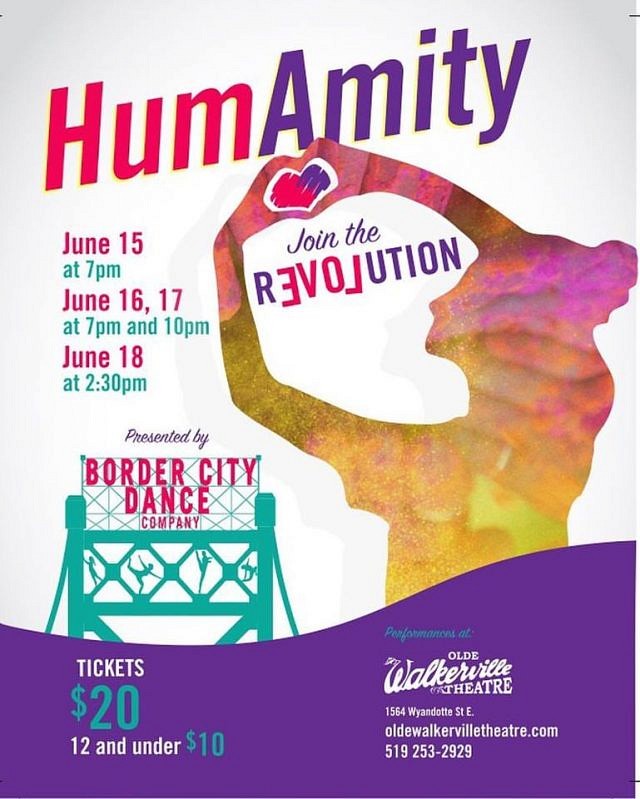 Melissa Williams, internationally known choreographer, residing in Amherstburg has been responsible for choreography and direction on many known platforms professionally, including TV shows The Next Step, SYTYCD Canada, Stephen King's mini series 11-22-63, and the ParaPanAm Opening Ceremonies.
Most recently Melissa and her team created and directed the FINA Opening Ceremonies held here in Windsor at Ceasars Windsor Colosseum. Border City Dance Company made their premier debut in these Opening Ceremonies and wowed the audience throughout. This time Border City Dance Co has conceived and created an original production HUMAMITY featuring the incredible company of dancers, all local, as well as featuring the choreographic works of company members and local up and coming and renown choreographers. Dancer and personal assistant, Samantha Marentette and Melissa Williams have been working with Border City Dance Co to create something motivating, moving that brings us, the human race, together. While working with a collaborative team of passionate creators, the experience has been nothing short of breathtaking. Windsor's dancers that are part of the cast and Windsor's team of choreographers is something to be proud of!
With Six opportunities to catch this breath taking show, there is no reason to miss out! Catch Border City Dance Company on the Main Stage at The Olde Walkerville Theatre Thursday June 15 @7pm, Friday June 16 @ 7 & 10pm, Saturday June 17 @ 7 & 10pm and Sunday June 18 @ 2:30pm.
Tickets are $20 for adults and $10 for children under 12.
Location
The Olde Walkerville Theatre
1564 Wyandotte Street E
Windsor, Ontario