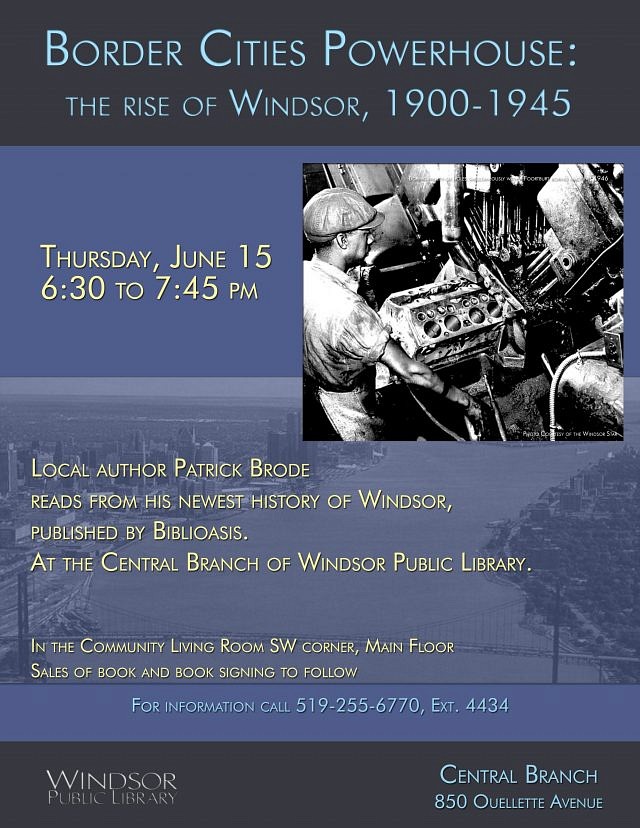 Join Patrick Brode, the Windsor Public Library, and Biblioasis for a reading from Patrick's newest title Border Cities Powerhouse: The Rise of Windsor 1900-1945.
Event to be held in the Community Living Room SW Corner
Main floor sales of book and book signings to follow
In the early 1900s, a series of small communities with modest industries was transformed, into a large, rapidly expanding industrial centre. By the end of the 1920s, the Border Cities had emerged as the eighth largest urban conglomeration in Canada, home to the nation's fourth largest industrial complex.
The story of Windsor's emergence during this period is largely one of confrontation and conflict.
As one of the first truly multicultural areas of Canada, the Border Cities showed all of the stress of integrating religious and ethnic groups into one community. Tracing the region's development through prohibition, the Great Depression, and the military expansion of World War II, the era reaches its climax during the infamous Ford Factory Strike of 1945, when communist-led autoworkers faced off against corporate management as well as provincial and federal police.
Following the success of The River & the Land: A History of Windsor to 1900, this second book in Patrick Brode's comprehensive, three-volume history of the Border Cities region captures an age of explosive growth and political struggle.
For information call 519-255-6770 Ext. 4434
ABOUT THE AUTHOR
Patrick Brode was born in Windsor in 1950 and educated there. He graduated from Windsor Law School, was called to the Ontario bar in March 1977, and has practised law ever since. Brode's first book was a biography of an early Ontario judge, Sir John Beverley Robinson (1984) which was short-listed for the City of Toronto Book Award. His second book was a case study of an escaped slave wanted in Ontario for murder in 1860, The Odyssey of John Anderson, which was short-listed for Ontario's Trillium Award in 1990. His other books have dealt with the evolution of the law and society. The Slasher Killings, a study of a serial killer in Windsor who was stalking gay men, was nominated for the Crime Writers of Canada's Arthur Ellis Award and is currently under pre-production for a film treatment.
Location
Windsor Public Library, Central Branch
850 Ouellette Ave
Windsor, Ontario