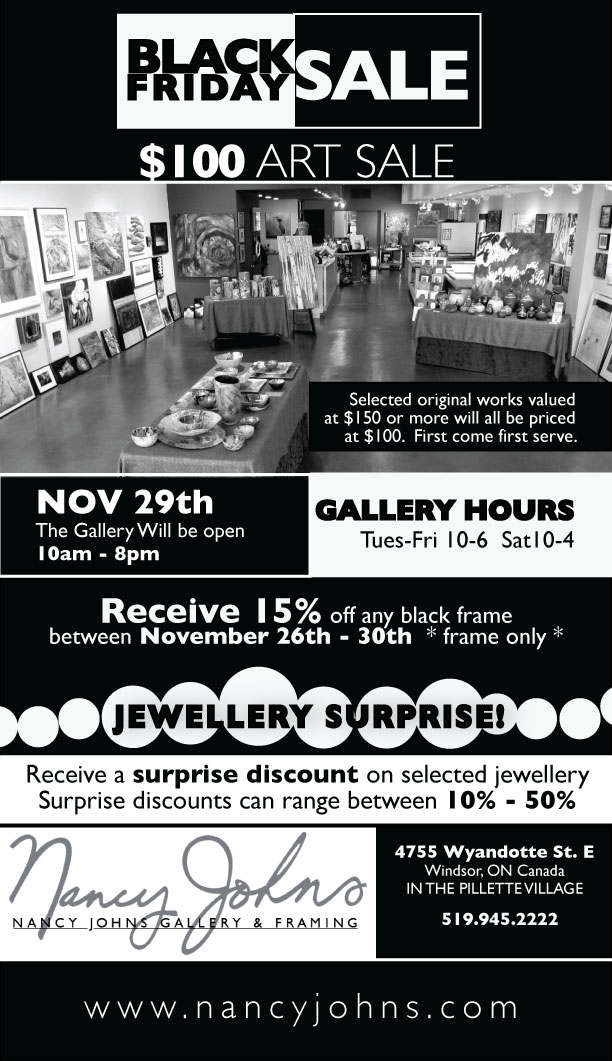 We are having a very exciting event Friday, November 29th for special hours between 10am – 8pm and we want to make sure you don't miss out!
CUSTOM FRAMING DISCOUNT
Receive 15% off any BLACK frame purchase
$100 PAINTING SALE
Select paintings, sculpture, and groupings of art cards and photography valued between $150 and $500 will all be sold for ONLY $100!!!!!
Artists included in this sale are:
Gloria Gellner – raku pottery
Claire Hayes – mixed media paintings
Holly Wolter – mixed media paintings and art cards
Mike Marcon – mixed media paintings
Dianne Clinton – mixed media paintings
Megan Cornwall – mixed media paintings
Nancy Johns – mixed media paintings
Donnie Johnston – photography
Michelle Chappus – photography, art cards, and acrylic paintings
Susan Duxter – acrylic paintings
Margaret Guillet – acrylic paintings
Lori Lorimer – outdoor and indoor sculpture
Cale Best – photography
John Vacratsis – acrylic paintings
Jaclyn Abt – acrylic paintings
Doug MacLellan – photography
To view any artist's work, please visit www.nancyjohns.com
JEWELLERY SURPRISE
Choose from any select jewellery and discover a discount between 10% – 50% during your purchase!
Artists included in this sale are:
Julie Bell – collage and beadwork
Barb Dickey – beadwork and wire wrapped stones
Michelle Taylor – lampwork glass jewellery
Rosemary Clinton – fused glass pendants
To view any jewellery artist's work, please visit www.nancyjohns.com
Location
Nancy Johns Gallery & Framing
4755 Wyandotte Street East
Windsor, Ontario