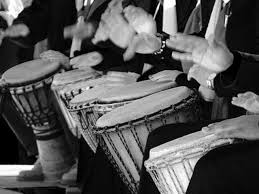 The Big Bang!
Percussion performance.
Are you a finger tapper, foot stomper, snapper or hip swayer? Get in touch with your inner rhythm with 4th Wall's percussion performance. Featuring vibraphone, marimba, a drum circle and much more.
Featuring:
Nick Papador, marimba
Chris Chamberlain, percussion
Bert and Joy Mayerhofer, West African drumming
T.J. Travis, drum circle – yes, this involves you!
Amy Ley, harp
Trevor Pittman, clarinet
Mike Stone, trombone
Admission: $15 or $5 for 12 and under
Looking forward to seeing you there!
www.4thwallmusic.org
Location
Capitol Theatre, Windsor
121 University Avenue West
Windsor, Ontario