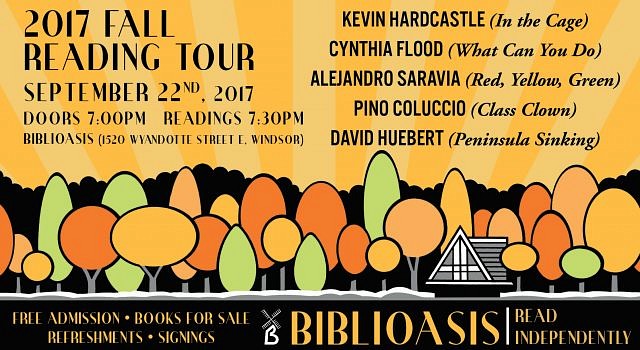 Come spend a Friday night with award-winning Canadian literary stars at the Biblioasis fall launch bash! Free admission, free refreshments, good books and good folks.
The final leg of our South Ontario tour, we will be launching books by Kevin Hardcastle (IN THE CAGE), Cynthia Flood (WHAT CAN YOU DO), Alejandro Saravia (RED, YELLOW, GREEN), Pino Coluccio (CLASS CLOWN), and David Huebert (PENINSULA SINKING).
SAVE THE DATE WINDSOR—this will be our hometown event of the season! Come out for great books, good friends, snacks and a drink.
Doors at 7:00 PM
Readings 7:30 PM
Free Admission I Books For Sale I Refreshments I Signings
ABOUT THE BOOKS
IN THE CAGE BY KEVIN HARDCASTLE — A feared cage fighter in Mixed Martial Arts, Daniel is closing in on greatness—until an injury derails his career. Out of work in his country hometown, Daniel slips into the underworld, moonlighting as muscle for a childhood-friend-turned-mid-level-gangster. While his wife works nights and his twelve-year-old daughter gets into scraps of her own, Daniel tries to escape and build a nobler life for his family—but he sinks deeper into a violent, unpredictable world, soon sparking a conflict that can only be settled in blood.
WHAT CAN YOU DO by Cynthia Flood — In these twelve stories that unfold over a few hours or a weekend or five decades, adults deceive themselves about their motives―greed, desire for control, jealousy, fear, ambition. With unflinching realism, reminiscent of William Trevor, Cynthia Flood exposes the failings of the human heart and with a marvellous unsentimental brutality leaves many a character unredeemed.
RED, YELLOW, GREEN by Alejandro Saravia — In Montreal, Alfredo struggles with his memories of being ordered to commit an atrocity by the Bolivian army. Despising his nation as an oppressive sham, he falls for a woman who has no nation—a Kurdish freedom-fighter trying to blast an independent Kurdistan into existence. As the net of intrigue closes in on his lover, Alfredo must finally face his past. Refusing to be bound by style, genre, or language, Alejandro Saravia captures the tumultuous existence of the exile.
CLASS CLOWN by Pino Coluccio — Philip Larkin meets Larry David in this collection about love and death. More punk than prog, neither light nor overweight, these poems celebrate that highest of human art forms: clowning around.
PENINSULA SINKING by David Huebert — In his debut collection of short stories, David Huebert brings us an assortment of wounded wanderers who remind us that we are all marooned on the shores of being, watching oceans rise. Veterinarians, prison guards, submariners, and horse-passport scrutinizers develop various schemes to navigate the ruins of their capsizing lives and to confront the beauty of their bruised worlds. These are stories about human love for non-human life and finding joy amid the horror of a precarious, melting world.
For more information, please contact Casey Plett at (519) 968-2206 or [email protected]
Location
Biblioasis
1520 Wyandotte Street East
Windsor, Ontario