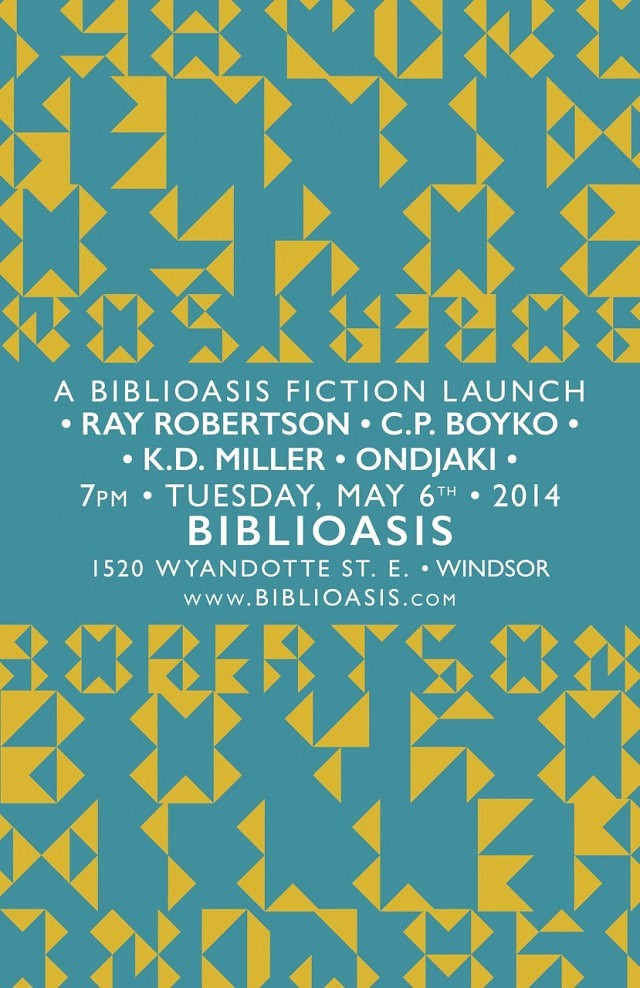 Biblioasis welcomes you to the launch of our Spring titles on Tuesday May 6 at 7pm. Award-winning author Ray Robertson is back with his latest novel I Was There the Night He Died; Jonathan Evison has proclaimed it to be a "hilarious, moving, insightful, and timely piece of modern realism, delightfully void of literary pretension… a novel that rocks and rolls." The rising star of African literature, Ondjaki, will be presenting Granma Nineteen and the Soviet's Secret, a coming-of-age adventure in which a young boy and his friends must save their homes with the help of a cast of colourful, vibrant characters.
In the short fiction department, authors C.P. Boyko and K.D. Miller launch their newest compilations. K.D. Miller, presents what Caroline Adderson calls a "a moving and soulful book" in All Saints, while the Journey Prize-winning C.P. Boyko (Novelists, 2014) will have you rolling in the aisles with what Russell Banks heralds "proudly, gloriously, gleefully old-fashioned" literary satire.
Celebrating the first books from what promises to be the strongest literary list in press history, this evening is not to be missed.
Location
Biblioasis
1520 Wyandotte East
Windsor, Ontario