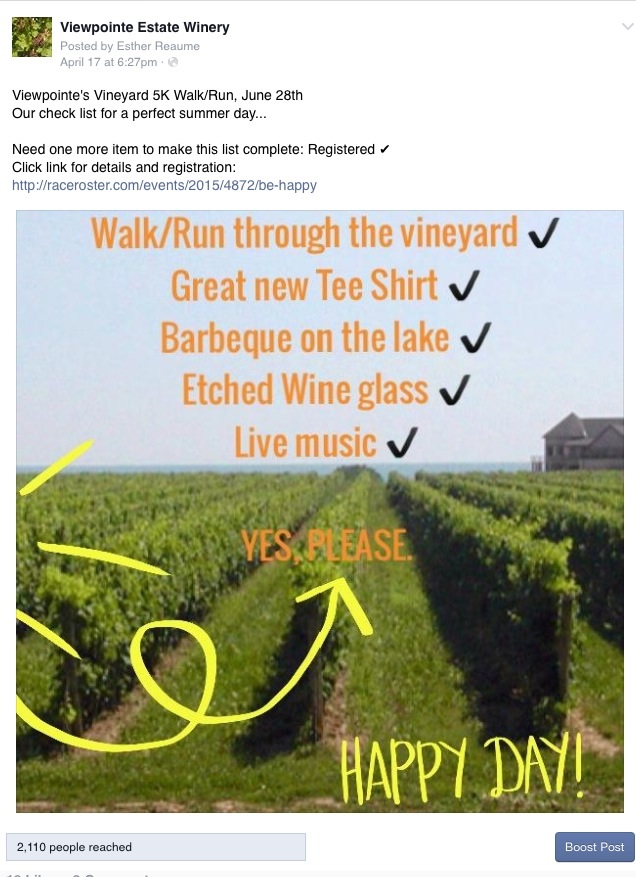 'Be Happy', Viewpointe's 5K Vineyard Run, June 28th, 2015
Viewpointe Estate Winery, where our Views are as spectacular as our wines…
A unique opportunity to run through Viewpointe's North vineyard….discover the natural beauty that surrounds our vines.
The race route returns you to our magnificent lakeside patio for live music and a great barbeque lunch.
And …..there is a wine glass waiting for you at the finish line!
Soak up the atmosphere, enjoy lunch with a glass of Viewpointe's award winning wine.
Wine is available by the glass.
Complete details and registration at:
http://raceroster.com/events/2015/4872/be-happy
Whether you run or walk, every step will count. Partial proceeds from your entry is supporting Iris House.
Providing services and safe and secure residence for those with serious mental illness.
http://irishouse.webs.com/information.htm
Entry fee: $50
Registration Includes:
'Be Happy' Tee Shirt
Lakeside Barbeque Lunch with live entertainment
Etched Wine Glass
Location
Viewpointe Estate Winery
151 County Road 50 East
Harrow, Ontario