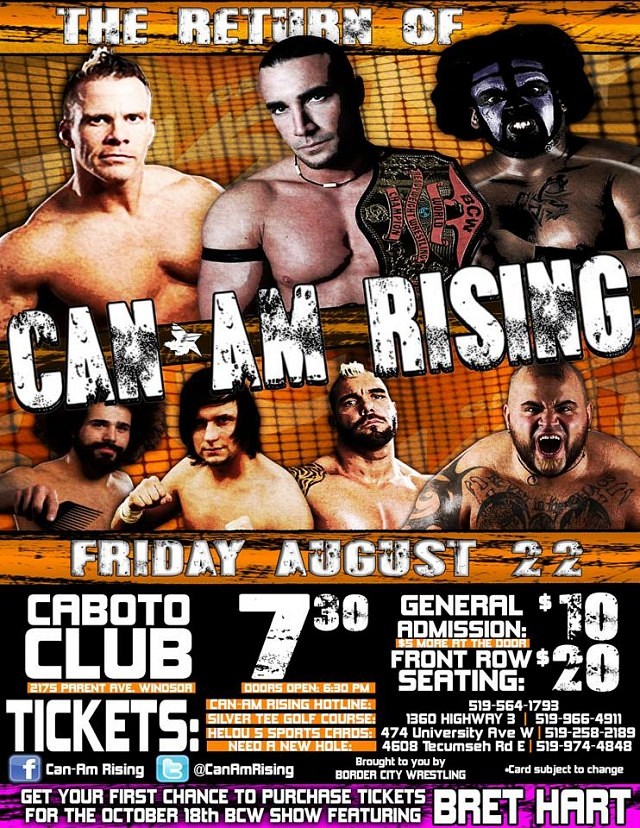 BORDER CITY WRESTLING: CAN-AM RISING returns 8/22!
Attention wrestling fans, BCW: Can-Am Rising returns in a huge way on Friday, August 22, 2014! Almost two years to the day of our very first event, we will rise again this summer with BCW Heavyweight Champion PHIL ATLAS putting his belt on the line, the 7′ monster KONGO KONG, "CYBORG" TYSON DUX, former TNA Knockout TAELER HENDRIX, AIDEN PRINCE, BOLEN, JOHN E. BRAVO, ABE "ACTION" JACKSON, "THE OVERDOGS" SEBASTIAN SUAVE & JOHN GREED, and more!
The event will take place at the Caboto Club (2175 Parent Avenue, 519-252-8383) on Friday, August 22, 2014! Belltime is 7:30 p.m. and doors will open at 6:30 p.m. for all ticketholders.
Reserved 1st and 2nd row seats are $20 ($25 at the door), and general admission are just $10 ($15 at the door)! General Admission tickets for this show can be purchased by visiting one of the following outlets:
Silver Tee Golf Centre (1360 Highway 3, 519-966-4911)
Helou's Sportscards & Collectibles (474 University Ave. W., 519-258-2189)
Need a New Hole (4608 Tecumseh Rd. E., 519, 974-4848)
* For Reserved 1st & 2nd Row, call the Rising Hotline at 519-564-1793! PLEASE BE ADVISED THAT 1ST & 2ND ROW TICKETS ARE ONLY AVAILABLE BY CALLING THE HOTLINE! *
*** Also at Can-Am Rising's event on August 22, fans who attend will have the VERY FIRST opportunity to purchase tickets for BCW's big return on October 18, featuring WWE Hall of Famer, the legendary BRET HART! These tickets will not be available anywhere else before August 22, so make sure you're at Can-Am Rising to grab the best seats in the house! ***
Can-Am Rising is looking for sponsors! To sponsor this show, contact [email protected]!
Stay connected to Can-Am Rising for all the latest information on current and all future shows:
Follow us on Twitter @canamrising! www.twitter.com/canamrising and also @bcwonline www.twitter.com/bcwonline
"Like" us on the Can-Am Rising Facebook group! www.facebook.com/canamrising / www.facebook.com/bordercitywrestling
Check out Can-Am Rising's exclusive youtube series, Strong Style – featuring matches, interviews, and more! #strongstyle
Card subject to change.
Location
Caboto Club
2175 Parent Avenue
Windsor, Ontario