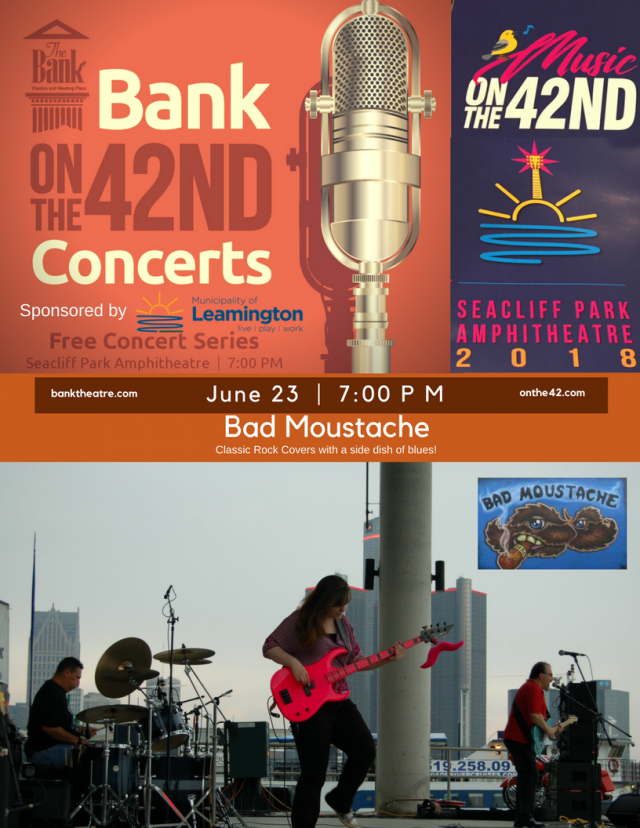 Bad Moustache – Classic Rock Covers with a side dish of blues!
June 23 – 7pm – Seacliff Park Amphitheatre
Bad Moustache is the nickname given to Denny Bastarache as a rhyme to his last name. Denny has toured Canada and the US, and is active in the community through his music and as a member of the Leamington/Windsor Regional Songwriters. Denny Bastarache, Kaitlyn Howard, John Bacon, a 3 piece classic rock band, are as at home performing the blues, singing country and are no strangers to rock and roll.
FREE all ages concerts – Bring your lawn chairs, blankets, picnic and enjoy the new Seacliff Park Amphitheatre and fabulous local music from Windsor Essex County performers in multiple genres!
Be sure to check out the entire lineup for the
Bank OnThe42nd summer concert series, featuring
Bad Moustache – June 23
Dale Butler Music & Friends July 14
Jen Knight – July 28
No Drama Live at Seacliff Park – August 11
The Family Soul – August 25th
AND
for the Music ONTHE42ND Summer Concert Series!
https://www.facebook.com/Tourism-Leamington-1214559275348108/
www.banktheatre.com
#LeamingtonProud #ExperienceLeamington #YQG #OnThe42
Location
Seacliff Park Amphitheatre
Seacliff Drive West and Forest Avenue
Leamington, Ontario