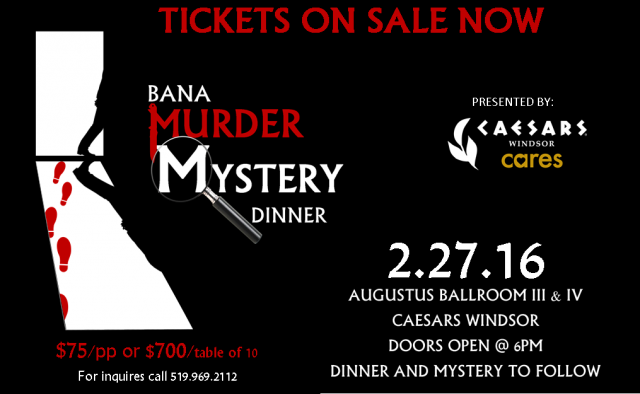 Come join us on a mysterious adventure filled with fine dining, suspense and intrigue.
Never attended a Murder Mystery Dinner (MMD) before? Not to worry, BANA's got you covered!
What you need to know for a great night out:
Being a guest at an MMD is essentially like watching a real-life game of "Clue" unfold before your eyes. As an attendee you will have the opportunity to sit back and enjoy the night, observing events as they play out.
If you're feeling particularity curious and are driven to solve the 'crime', you are also welcomed to interact with those who are acting out the mystery (**note that is not a requirement).
BANA's MMD will be a night to remember – one that will entail humour, observation, and good old fashioned deductive reasoning skills!
Keep your eyes and ears open – events will be unfolding around you all evening.
While you're there, don't miss our fabulous raffle prizes donated by local individuals and organizations.
Tickets are $75/pp or $700 (table of 10)and can be purchased online at www.bana.ca/mmd.
Can you solve the mystery before you're next?
ALL PROCEEDS BENEFIT THE BULIMIA ANOREXIA NERVOSA ASSOCIATION.
Location
Caesars Windsor (Augustus Ballroom III & IV)
377 Riverside Drive East
Windsor, Ontario