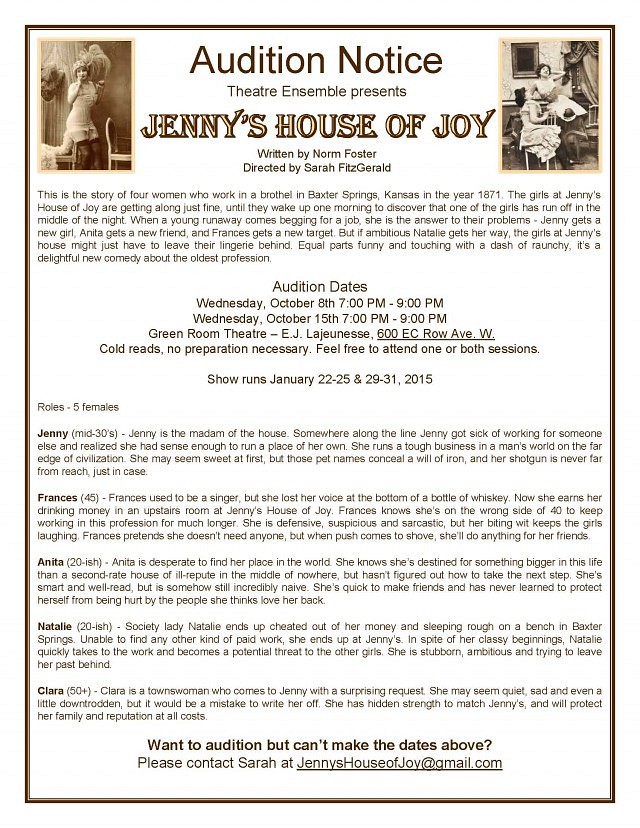 Audition Notice
Theatre Ensemble presents
Jenny's House of Joy
Written by Norm Foster
Directed by Sarah FitzGerald
This is the story of four women who work in a brothel in Baxter Springs, Kansas in the year 1871. The girls at Jenny's House of Joy are getting along just fine, until they wake up one morning to discover that one of the girls has run off in the middle of the night. When a young runaway comes begging for a job, she is the answer to their problems – Jenny gets a new girl, Anita gets a new friend, and Frances gets a new target. But if ambitious Natalie gets her way, the girls at Jenny's house might just have to leave their lingerie behind. Equal parts funny and touching with a dash of raunchy, it's a delightful new comedy about the oldest profession.
Audition Dates
Wednesday, October 8th 7:00 PM – 9:00 PM
Wednesday, October 15th 7:00 PM – 9:00 PM
Green Room Theatre (E.J. Lajeunesse) 600 EC Row Ave. W.
Cold reads, no preparation necessary. Feel free to attend one or both sessions.
Show runs January 22-25 & 29-31, 2015
Roles – 5 females
Jenny (mid-30's) – Jenny is the madam of the house. Somewhere along the line Jenny got sick of working for someone else and realized she had sense enough to run a place of her own. She runs a tough business in a man's world on the far edge of civilization. She may seem sweet at first, but those pet names conceal a will of iron, and her shotgun is never far from reach, just in case.
Frances (45) – Frances used to be a singer, but she lost her voice at the bottom of a bottle of whiskey. Now she earns her drinking money in an upstairs room at Jenny's House of Joy. Frances knows she's on the wrong side of 40 to keep working in this profession for much longer. She is defensive, suspicious and sarcastic, but her biting wit keeps the girls laughing. Frances pretends she doesn't need anyone, but when push comes to shove, she'll do anything for her friends.
Anita (20-ish) – Anita is desperate to find her place in the world. She knows she's destined for something bigger in this life than a second-rate house of ill-repute in the middle of nowhere, but hasn't figured out how to take the next step. She's smart and well-read, but is somehow still incredibly naive. She's quick to make friends and has never learned to protect herself from being hurt by the people she thinks love her back.
Natalie (20-ish) – Society lady Natalie ends up cheated out of her money and sleeping rough on a bench in Baxter Springs. Unable to find any other kind of paid work, she ends up at Jenny's. In spite of her classy beginnings, Natalie quickly takes to the work and becomes a potential threat to the other girls. She is stubborn, ambitious and trying to leave her past behind.
Clara (50+) – Clara is a townswoman who comes to Jenny with a surprising request. She may seem quiet, sad and even a little downtrodden, but it would be a mistake to write her off. She has hidden strength to match Jenny's, and will protect her family and reputation at all costs.
Want to audition but can't make the dates above?
Please contact Sarah at [email protected]
Location
Green Room Theatre (E.C. Lajeunesse)
600 EC Row West
Windsor, Ontario