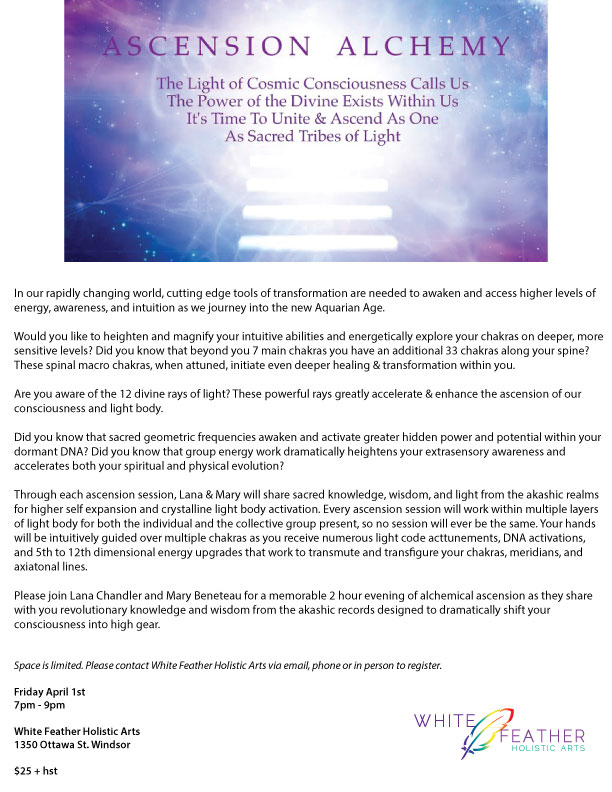 Ascension Alchemy
Interactive Group Energy Healing
In our rapidly changing world, cutting edge tools of transformation are needed to awaken and access higher levels of energy, awareness, and intuition as we journey into the new Aquarian Age.
Would you like to heighten and magnify your intuitive abilities and energetically explore your chakras on deeper, more sensitive levels? Did you know that beyond you 7 main chakras you have an additional 33 chakras along your spine? These spinal macro chakras, when attuned, initiate even deeper healing & transformation within you.
Are you aware of the 12 divine rays of light? These powerful rays greatly accelerate & enhance the ascension of our consciousness and light body.
Did you know that sacred geometric frequencies awaken and activate greater hidden power and potential within your dormant DNA? Did you know that group energy work dramatically heightens your extrasensory awareness and accelerates both your spiritual and physical evolution?
Through each ascension session, Lana & Mary will share sacred knowledge, wisdom, and light from the akashic realms for higher self expansion and crystalline light body activation. Every ascension session will work within multiple layers of light body for both the individual and the collective group present, so no session will ever be the same. Your hands will be intuitively guided over multiple chakras as you receive numerous light code acttunements, DNA activations, and 5th to 12th dimensional energy upgrades that work to transmute and transfigure your chakras, meridians, and axiatonal lines.
Please join Lana Chandler and Mary Beneteau for a memorable 2 hour evening of alchemical ascension as they share with you revolutionary knowledge and wisdom from the akashic records designed to dramatically shift your consciousness into high gear.
Space is limited. Please contact White Feather Holistic Arts via email, phone or in person to register.
Friday April 1st
7pm – 9pm
White Feather Holistic Arts
1350 Ottawa St. Windsor
$25 + hst
Location
White Feather Holistic Arts
1350 Ottawa Street
Windsor, Ontario