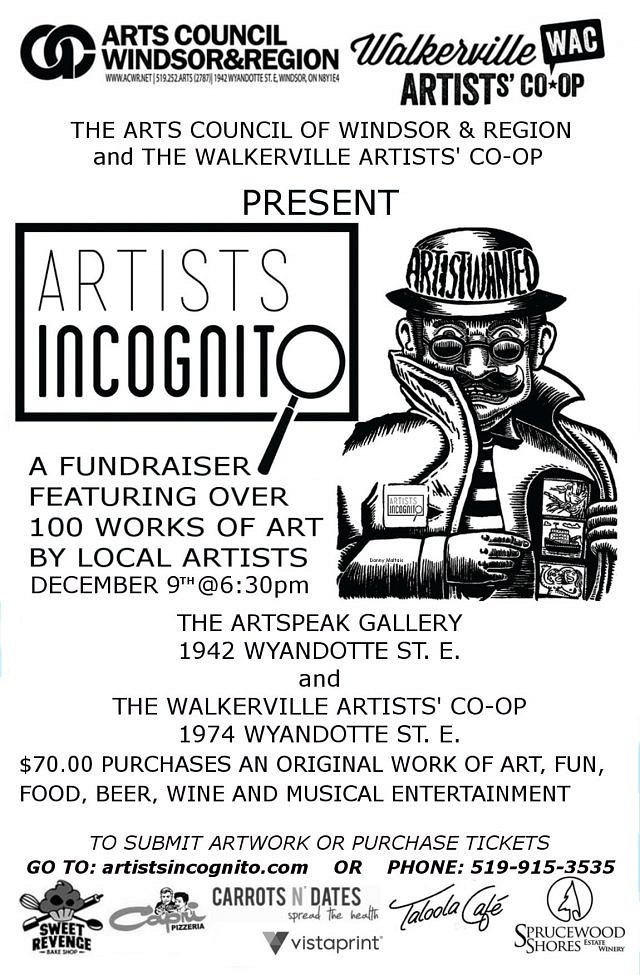 The Arts Council Windsor Region (ACWR) and the Walkerville Artists' Co-­op are getting together to host an inaugural annual fundraising event happening on December 9, 2016 called "Artists Incognito" where the identity of the exhibiting artists is concealed until a buyer makes their choice!
Why Artists Incognito? The artists who have created the artwork will remain anonymous until such time as the artwork has been purchased at the closing reception on December 9th. Will you be buying art from an emerging artist? Will it be a well-established and collected artist? You will find out but only after cashing in your art voucher.
The organizers of this event are thrilled of the variety of art made available for this inaugural year which include among other: photography, jewelry, glass art, pottery, handmade soaps, illustrations, as well as original paintings and prints. Attendees will get to pick works of art that they love, support 2 great art organizations, and will have the opportunity to meet the artist who has created their piece of art.
In addition to the artwork, the closing reception will feature local musicians, food provided by local restaurants including Carrots n' Dates, Capri, Thyme To-Go and Sweet Revenge as well as wine from Sprucewood Estate Winery and coffee and tea from Taloola Café. This is truly a community event that will bring together emerging artists, well established artists and patrons of the arts.
A portion of all ticket sales will go towards supporting the services and programs offered by the ACWR and WAC.
Location
Walkerville Artists Co-op
1974 Wyandotte Street East
Windsor, Ontario