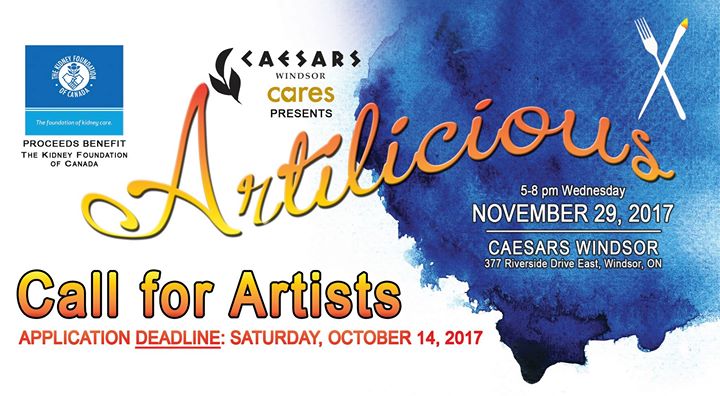 The Call For Artists For The 4th Annual Artilicious, Windsor's premiere food and art event, presented by Caesars Windsor is now open.
Local artists are invited to apply to participate in this year's event taking place at Caesars Windsor on November 29, 2017.
** THE DEADLINE TO APPLY IS SATURDAY, OCTOBER 14, 2017 **
Windsor Essex artists are welcome to showcase all forms of art including but not limited to the following: Fine art, fine craft, paintings, mixed-media artwork, pottery, textiles, jewelry, printmaking, photography, woodturning, apparel, and literary arts.
This event gives local artists the chance to mix and mingle with the public while showcasing their art, explaining their creative process, sharing business cards and other promotional materials to increase their reach and visibility in the community, invite guests to their studios and / or upcoming exhibits, and sell their works. (This is also a great opportunity for artists to promote their website and invite guests to connect with them on social media).
For more information visit www.kidney.ca/WindsorEssex where the Artilicious 2017 Artist Application form is available for download.
About Artilicious
For only $25 in advance or $30 at the door, Artilicious offers you the opportunity to sample unique and delicious food from participating local eateries and finish off your meal with a little something sweet and a McCafe coffee. This is all included in the ticket price.
Artilicious also offers guests the opportunity to shop local artisan vendors showcasing their unique, quality, handmade works of art, just in time for the holiday season.
Proceeds from this event benefit The Kidney Foundation of Canada. Since its creation in 1964, The Kidney Foundation has helped millions of Canadians suffering from kidney failure and related disorders such as hypertension, diabetes, urinary tract infections and kidney stones.
Please consider sharing this event and inviting any local artists you may know. Thank you for your support.
#ArtiliciousWindsor #YQG #Artilicious
Location
The Kidney Foundation of Canada, Windsor & District Chapter
PO Box #22033, 11500 Tecumseh Rd. E
Windsor, Ontario