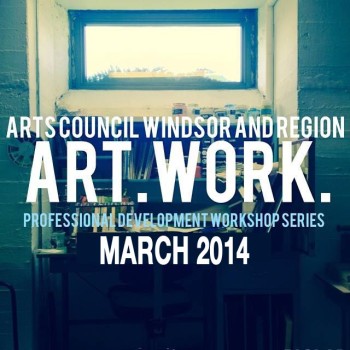 WHEN:
March 26, 2014 @ 6:00 pm – March 27, 2014 @ 8:30 pm
WHERE:
Arts Council Windsor & Region
1942 Wyandotte Street East
Windsor, ON N8S 1S1
Canada
COST:
$10 for members, $15 for non-members
CONTACT:
Arts Council Windsor & Region
519-252-2787
ART.WORK workshop – Capturing the Moment of Art: How to Document Time-Based Art Practices @ Arts Council Windsor & Region | Windsor | Ontario | Canada
Visual documentation is a crucial element for successful grant applications, festival submissions and exhibition proposals. Knowing how to properly document your work is especially important for time-based media, ephemeral art, installation art, collaborative work and process-based art practices. This two-day workshop for emerging to mid-career artists will provide practical information to help meet the unique challenges posed by these art practices when it comes to creating visual support material. Facilitated by Owen Eric Wood.
The workshop will be limited to fifteen participants. Participants are encouraged to attend both days. If you are a note taker, please come with a pencil and paper. You are also encouraged to bring examples of your own documentation for critical feedback in the form of printed images or digital files on a USB memory stick.
Artists and arts administrators from all disciplines are encouraged to Register (visit website to register)
WHEN: Wednesday March 26 and Thursday March 27 2014
TIME: 6-8:30pm
WHERE: Arts Council Windsor & Region (1942 Wyandotte St. E)
COST: $10 for ACWR members or $15 for non members. (not a member? – become a member by visiting our website)
This workshop is limited to only 15 participants please ensure you have registered (registration on website) and paid prior to March 21, 2014
About the Facilitator
Owen Eric Wood is an award-winning video and performance artist whose work has shown at more than 100 galleries and festivals in 30 countries. His short video documenting the multimedia performance work of the Noiseborder Ensemble was selected as a winner of the Social Sciences and Humanities Research Council's Storytellers Challenge competition. In addition to serving on the board of directors of the Windsor Printmaker's Forum, Wood is actively involved in the arts community as a videographer, video editor, writing assistant and event organizer.
Wood is a recent graduate of the M.F.A. program at the University of Windsor's School for Arts and Creative Innovation. He also holds a B.F.A. from Concordia University in Montreal and B.A.A. in Journalism from Ryerson University in Toronto.
About ART.WORK Professional Development workshop series
The ART.WORK Workshop series provide artists at all stages of their careers and practices with usable and accessible information, examples and hands on experience in learning the art of being a professional artist. For more information on upcoming workshops visit the website.
To Register please fill in the form on the site. For payment please drop off payment to the ACWR office (1942 Wyandotte St. E during regular office hours or pay through paypal, link on the website).
Location
Arts Council Windsor & Region
1942 Wyandotte Street East
Windsor, Ontario