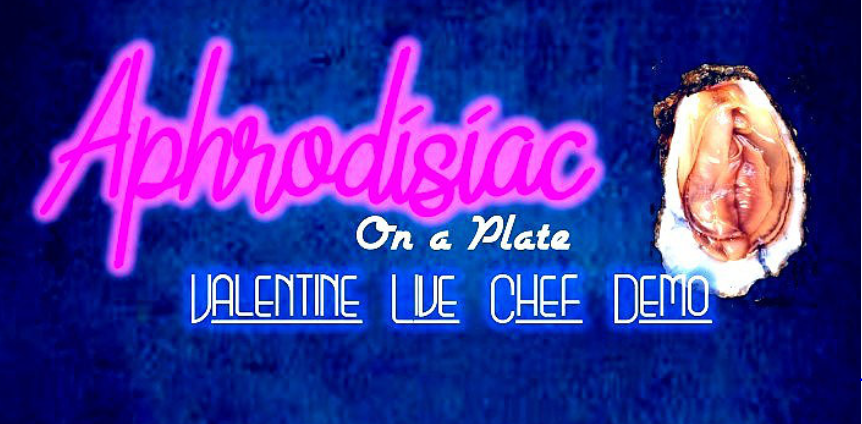 Aphrodisiacs have been around since Ancient Greek times, It has been traditionally used to treat infertility but in recent years it has become an intricate part of love and sex.
On Feb 14 & 15 we will be discussing all foods aphrodisiac…which are super potent? how it works, what is the ultimate aphrodisiac? and more.
Each guest will enjoy… Oysters 3 ways
Raw with mignonette, hot sauce and lemon
Cornmeal fried oysters on garlic toast, garlic aioli, cucumber salsa and buffalo sauce
Oyster Rockefeller-bacon, parmesan, spinach and panko bread crumbs. Each style of Oyster will be served with cocktail shooter
Main
Chocolate wafer stuffed rack of lamb with creamy chipotle, chocolate and chipolini onion demi glace served with whipped gouda potato, fresh figs and crispy parlsey, Cocktail TBA.
Desert
Candied ginger and strawberry. Raspberry key lime pie with candied bacon and macadamia brittle, served with Champagne.
During our Valentine's Demo award winning Chef Bill Deslippe will prepare this 3 course dinner using ingredients known to be high in aphrodisiac properties.
Each guest will learn how to prepare each course using techniques used In fine dining establishments. In-between, our amazing bartenders will dazzle with a cocktail pairing. Again breaking down each step on how to create your own high-end Craft Cocktail.
All guests will leave with a recipe book (includes all food and cocktail recipes) and the new found knowledge to recreate each dish & cocktail in your home!
This Valentine's bring your sweetheart to a unique and libido boosting night of food, cocktail and entertainment 💓
There are 2 days for the event Thursday Feb 14, 7pm and Friday Feb 15 7pm.
Must 19 or over.
Location
Mailloux Farms
500 Alma Street
Amherstburg, Ontario