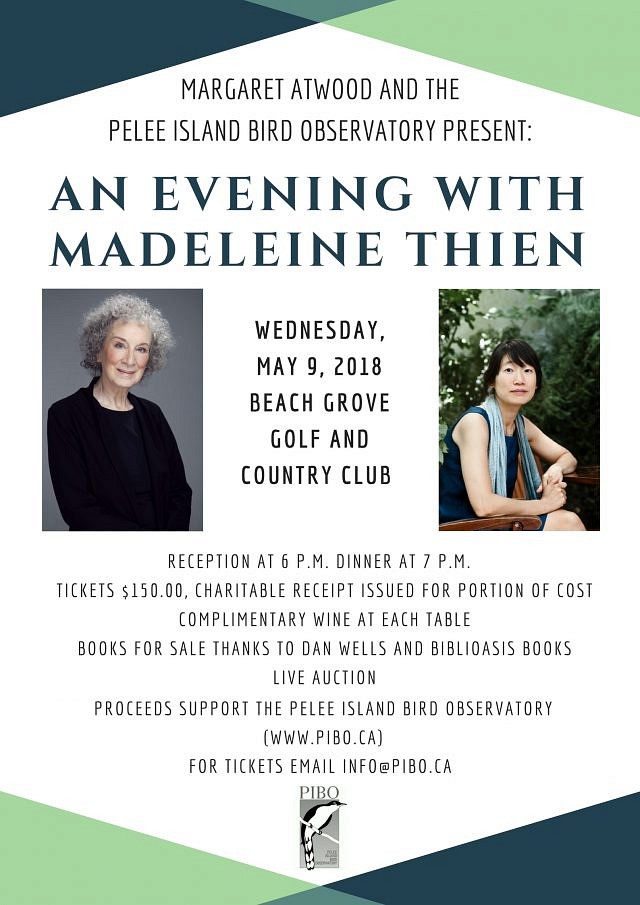 The program for the evening will feature Margaret Atwood's introduction of Madeleine Thien, Madeleine's talk, a gourmet dinner prepared by the chefs at Beach Grove in the club's stately dining room, and a live auction facilitated by Peter Hrastovec. Paul Vasey will be our animated M.C for the evening. The auction is always a lively affair and no two years feature the same items, but there is always something unique donated by Ms Atwood. At the end of the evening, there will be book signings by Madeleine and Margaret. Books will be available for purchase on-site from the University of Windsor Bookstore. All proceeds from the dinner and the auction go directly towards supporting PIBO's research on migration monitoring and our education program.
Please join us at The Beach Grove Golf and Country Club on May 9th. Tickets are $150, and a portion of the ticket price is eligible for a tax deduction. Reception is at 6 PM and dinner at 7 PM.
There will be complimentary wine at each table. We are looking forward to seeing you there!
Location
Beach Grove Golf and Country Club
Windsor, Ontario