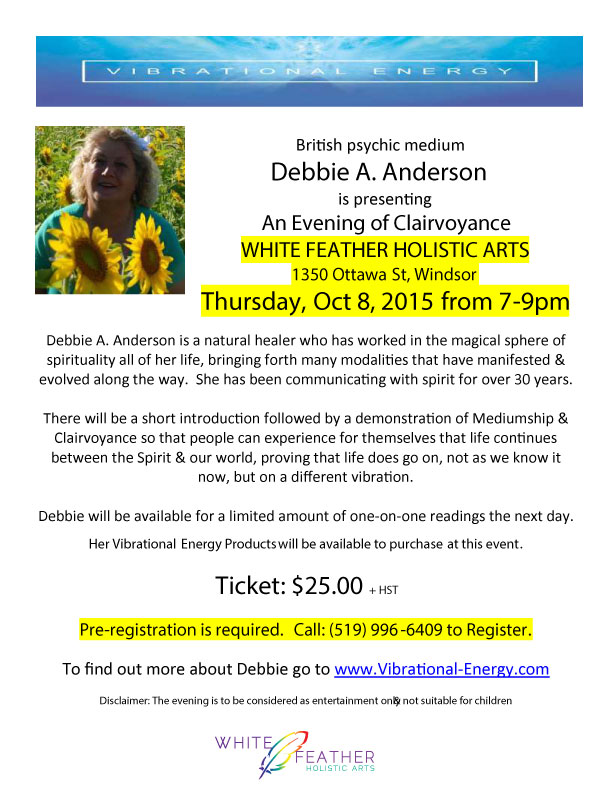 An Evening of Clairvoyance
with Debbie A. Anderson
*Note: You must call, email or drop in to register for workshops. Clicking "join" on Facebook, unfortunately, is not an accurate way for us to register people.
Debbie is a natural healer who has worked in the magical sphere of spirituality all of her life, bringing forth many modalities that have manifested and evolved along the way. She has been communicating with Spirit for over 30 years.
There will be a short introduction followed by a demonstration of mediumship and clairvoyance so that people can experience for themselves that life continues on between the Spirit world and our world.. Life goes on, not as we know it, but on a different vibration.
Debbie will be available for a limited amount of one on one readings on Saturday October 10th.
Vibrational Energy products will be available for purchase at the event.
(this is not a class to teach you to be clairvoyant, this is an event similar to the Long Island Medium, where Debbie will be receiving messages for participants)
Thursday October 8th
7 pm – 9 pm
White Feather Holistic Arts
1350 Ottawa St
cost : $25 +hst
Please contact us by phone or email to pre register.
519 – 996 – 6409
[email protected]
Location
White Feather Holistic Arts
1350 Ottawa Street
Windsor, Ontario