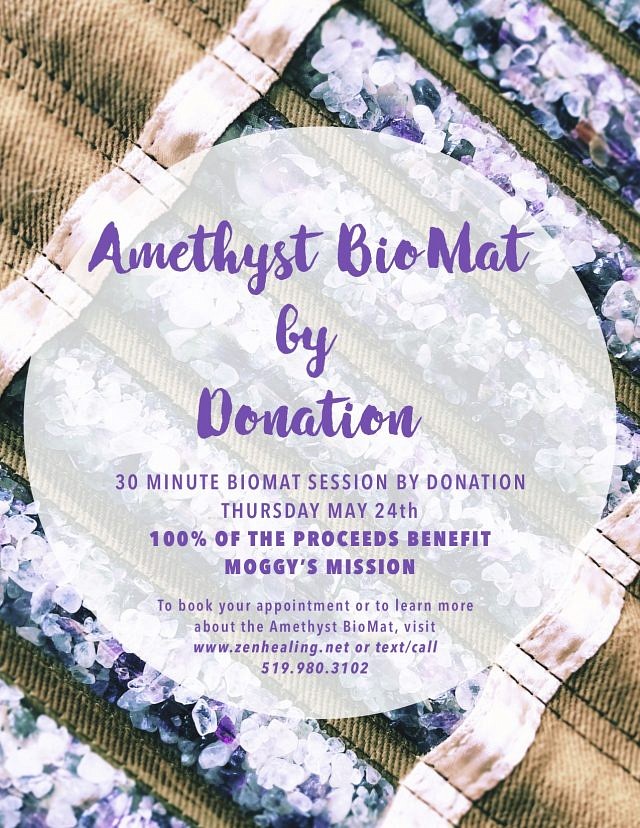 30 MINUTE BIOMAT SESSION BY DONATION
100% OF THE PROCEEDS BENEFIT MOGGY'S MISSION
What Is BioMat Therapy?
An Amethyst BioMat is a unique device combining Far Infrared Rays (FIR), Negative Ions and Amethyst crystals to produce deep penetrating light energy and heat for a maximum sense of well being and healing experience. It helps reduce stress, inflammatory response and toxic insult, while supporting alkaline balance and lymphatic movement.
The BioMat can be used to achieve the benefits of a sauna, allowing more customized temperature regulation without the hazards of heating the head or the negative EMF exposure in traditional saunas or heating devices. The Amethyst Crystals produce the highest frequency of vibrational energy that the body can absorb, thereby promoting increased conduction and absorption of Far Infrared and Negative Ions.
The BioMat is a FDS-registered Class II medical device, and is a safe way to increase alertness, improve memory skills, remove toxins from your body, and find inner peace.
Due to the BioMat's far infrared rays penetrate deeply into the body and address imbalances at the cellular level, people often experience a multitude of benefits.
Benefits of the BioMat include:
* Reduces stress, anxiety and fatigue
* Promotes deep relaxation
* Improved sleep patterns
* Relief from joint pain and stiffness
* Relief from sprains and strains
* Relief from muscular back pain
* Alleviates migraines and tension headaches
* Assists in eliminating toxins in the body
* Reduces allergy symptoms
* Improved immune system function
* Improved blood circulation and cardiovascular function
* Reduced inflammation
* Increased metabolism and weight control
* Improves muscle tone and skin quality
* Rejuvenates skin and cellular renewal function
* Promotes an overall feeling of balance, well-being and calm
Book Online or Text/Call Marsha Nichols 519.980.3102
Location
ZEN HEALING
2398 Francois Road
Windsor, Ontario