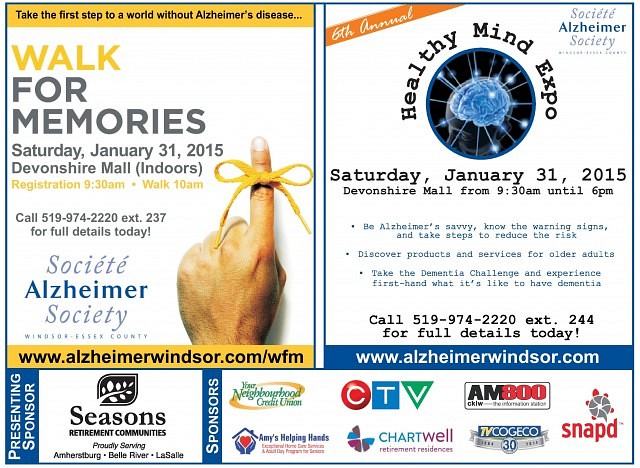 January is Alzheimer Awareness Month! The Alzheimer Society of Windsor and Essex County and Seasons Retirement Communities present two signature events at Devonshire Mall:
2015 Indoor Walk for Memories
9:30 am – Registration | 10:00 am – Walk
Walk to raise awareness and funds for Alzheimer's
disease/dementia programs and services in our community.
Register at http://www.AlzheimerWindsor.com/wfm
Sixth Healthy Mind Expo
Get Alzheimer-savvy! Discover:
* the 10 warning signs of Alzheimer's disease
* what products and services are available in our community
* what it's like to have dementia
* how to cut your risk of developing Alzheimer's disease
Get details at http://www.AlzheimerWindsor.com/healthymind
These events are supported by Amy's Helping Hands, Chartwell Retirement Residences, AM800, snapd, and CogecoTV.
Location
Devonshire Mall
3100 Howard Avenue
Windsor, Ontario