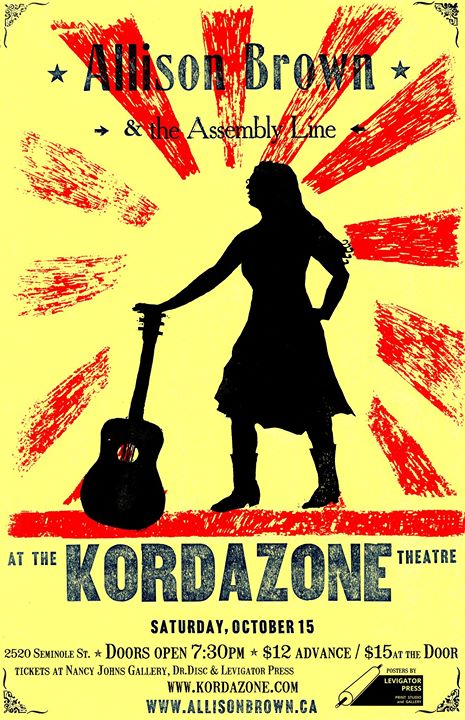 $12.00 in advance / $15.00 at the door
Doors at 7:30pm, show starts at 8:00pm
TICKETS ARE ON SALE NOW at Nancy John's Gallery (cash only), Levigator Press and Dr.Disc.
ONLINE ADVANCED TICKETS AVAILABLE AT:
https://allisonbrown.bandcamp.com/merch/allison-brown-the-assembly-line-saturday-october-15th-at-kordazone-theatre
Your name will be listed at the door, no paper ticket will be issued. Free download of "Model Railroad Town" with every online ticket purchase!
Allison Brown's sweet, powerful singing offers a captivating invitation to follow her down lonesome railroad lines, into abandoned buildings, back in time, to high above the stratosphere as she illustrates landscapes both strange and familiar with her newest collection of songs.
Allison's voice is experiencing an intense new elasticity as her instrument's distinct tune and tone evolve with over twenty years of performance experience.
"the complete elixir I needed to feel many troubles melt away" ~ Roots Music Canada
www.allisonbrown.ca
for more information 519-567-7407
[email protected]
Location
Kordazone Theatre
2520 Seminole Street
Windsor, Ontario