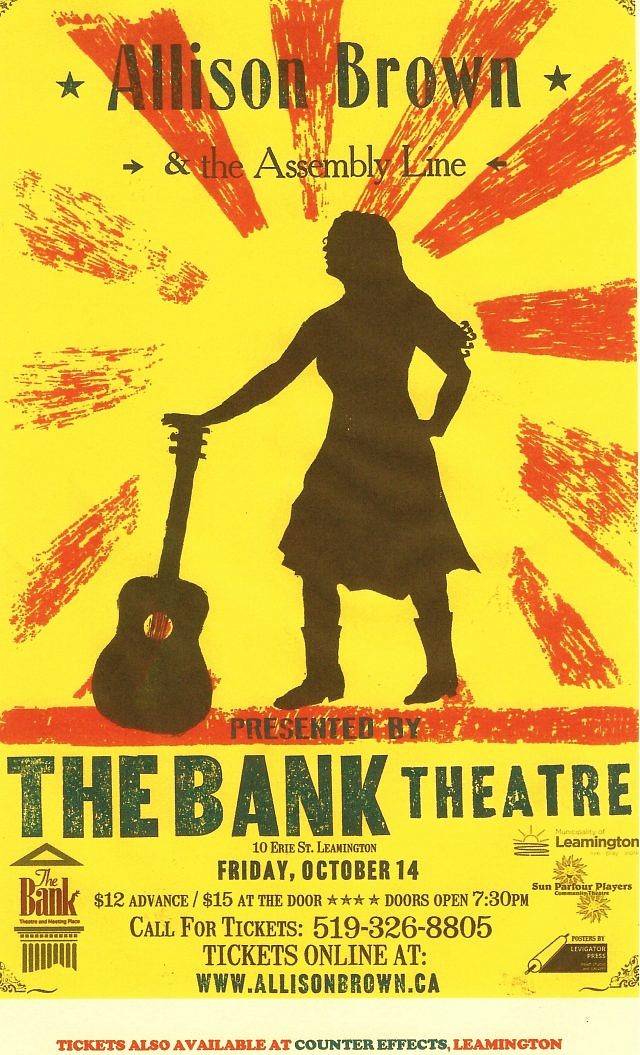 We hope you'll join us at The Bank Theatre and Meeting Place, 10 Erie Street South, Leamington to enjoy Allison Brown & the Assembly Line.
Allison Brown's sweet, powerful singing voice invites her audience to follow her back in time with her newest collection of songs. Allison grew up in Essex County and began singing at age 14. She chose to pursue music as a career and has been writing and performing across Canada for the past twenty years, during which time her distinct tune and tone of music has continually evolved. Her styles vary from bluegrass to Indy-folk and although she loves these, she stays true to her folk music roots.
Her upcoming concert on Friday, October 14th at 8:00 pm. (doors open at 7:30 pm.) will feature her newly formed band, "the Assembly Line", featuring Dan Henshall on mandolin, as well as other local musicians.
Tickets are $12 in advance and $15 at the door available at:
Ticket hotline: 519-326-8805
Tickets online: www.allisonbrown.ca
Location
The Bank Theatre and Meeting Place
10 Erie Street South
Leamington, Ontario