Date
Saturday October 19th, 2019
Time
9:00am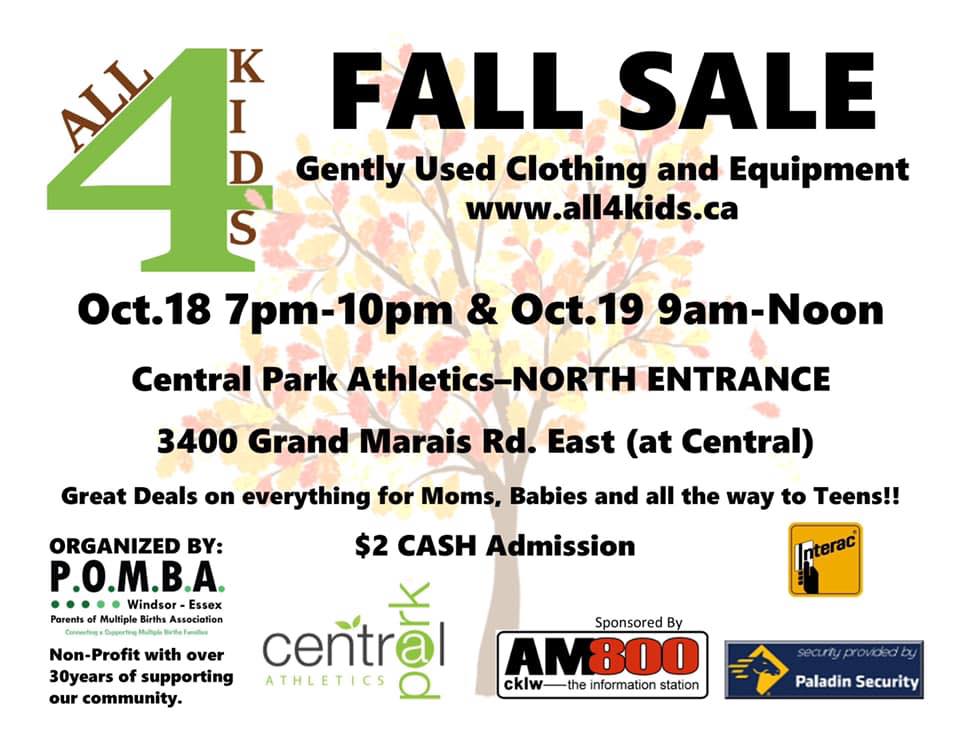 Welcome to the bi-annual All4Kids Fall Sale.
Friday, October 18th, 2019 from 7pm-10pm
Saturday, October 19th, 2019 from 9am-Noon
Central Park Athletics – North Entrance
3400 Grand Marias Rd. East (at Central)
$2 Admission
Presented by the Windsor and Essex County Parents of Multiple Births Association, a local not for profit organization, with the generous support of Central Park Athletics, the ALL4KIDS sale now boasts in excess of 90 vendors. Everything from maternity wear, preemie and infant clothes, boys and girls clothing, shoes and accessories, toys, books, games, bikes, car seats, strollers, cribs and baby furniture can be found here.
The fact that the majority of the sellers have twins or triplets in their family, makes this the perfect place to find those hard to find items. Double strollers, matching outfits and lots and lots of everything.
Our "department store" setup allows shoppers to be directed to exactly what they need. Boys and girls clothing are all hung on hangers, and are on racks, sorted by size and gender. This is just one more thing that makes this unlike any other yard sale. For your convenience we offer a holding room so you don't have to walk around with your large items while you continue to shop. Our items are priced to sell and with our "no haggle" policy, customers know how much they will be saving. Our convenient one stop check outs are set up away from the busy shopping areas, and provide a smooth payment process and even allow for debit transactions.
SUPER SHOP SATURDAY 9am-Noon – most items are 50% OFF!