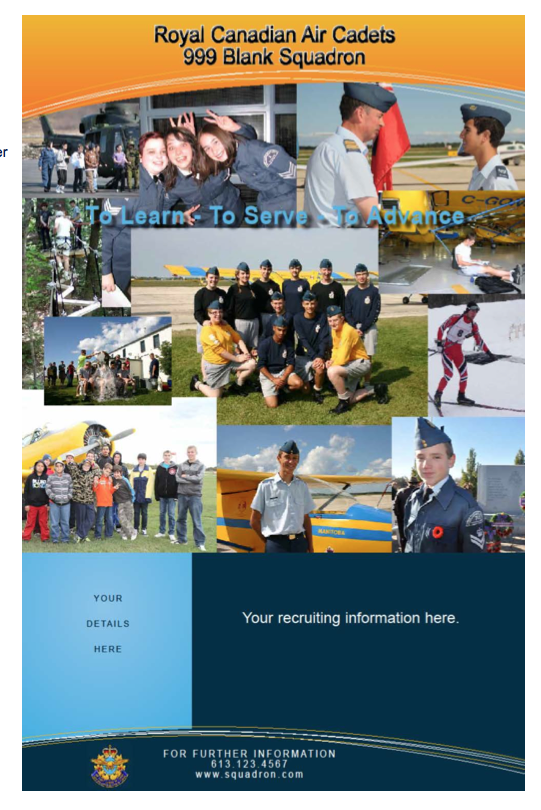 The Royal Canadian Air cadets is an organization for youth between 12 and 18. Meeting each Tuesday evening from 6:30 p.m. to 9:30 p.m., cadets receive training in citizenship, leadership, aviation, and physical fitness among other things. That also have opportunities to participate in other teams such as the band, drill, flight simulation, debate,
effective speaking and marksmanship.
The squadron also conducts field training exercises (FTXs) where cadets participate in survival training, canoeing, abseiling and other outdoor activities.
Flying familiarization is done through the local gliding centre in Chatham, Ontario, where cadets have the opportunity to fly inside of a glider!
Finally, cadets have the opportunity for summer training at one of the many cadet summer training centres (CSTCs) in Canada. Courses include physical fitness, aviation, leadership, survival training and music.
Scholarships for gliding and powered flight are also offered to a few cadets with ground school training supplied by 364 Squadron during the training year.
New cadet registration is taking place every Tuesday beginning at 6:30 p.m. at our hangar located at 2600 Airport Rd. Windsor.
For more information please check out our website at 364squadron.ca or call 519-256-5906
Location
364 Lancaster Squadron Hangar
2600 Airport Rd.
Windsor, Ontario