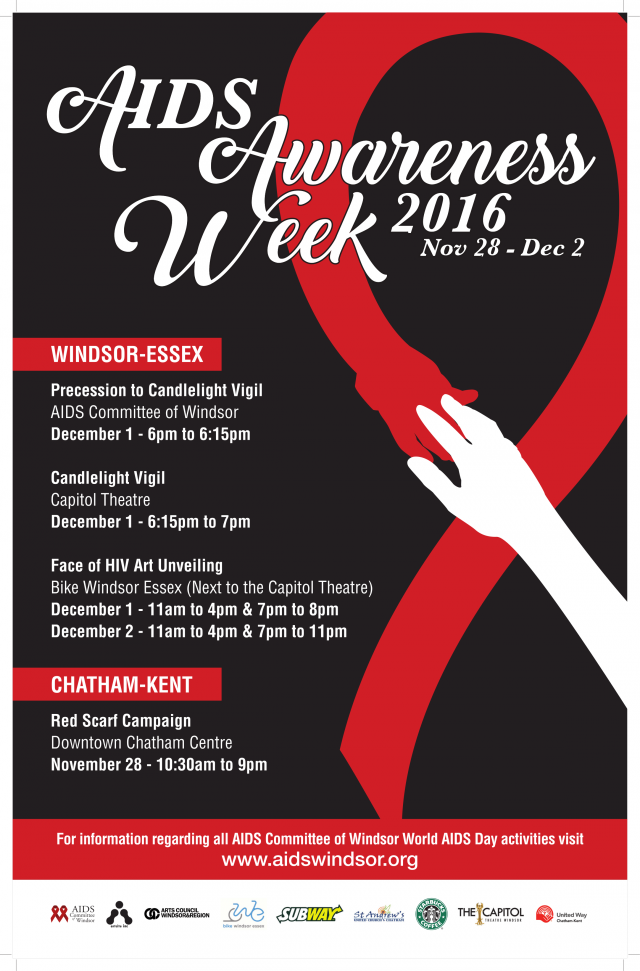 WORLD AIDS DAY MARKS A TIME TO REFLECT ON OVER 25 YEARS OF A GLOBAL PANDEMIC. The first GLOBAL health day, known as World AIDS Day, December 1 was held in 1988. It is one of the most recognized international health days, and a day the nation commemorates those whose lives have been lost to AIDS related illnesses. Mayor Drew Dilkens and the City of Windsor acknowledge, through proclamation, that December 1st, 2016 be proclaimed as World AIDS Day and urge all citizens to commemorate World AIDS Day as well.
Join us during AIDS Awareness Week, November 28th to December 2nd, 2016, as we unite globally and locally in remembrance of the over 25 million people who have lost their lives to AIDS related illnesses since 1981. The AIDS Committee of Windsor (ACW) will be hosting the following activities during AIDS Awareness Week and all are welcomed.
CHATHAM-KENT
Red Scarf Campaign
Through the hard work and generous donation of the St. Andrew's United Church Women's group, red scarves have been knitted to help raise awareness about the impact of HIV in our community. The scarves serve as a practical garment to keep those in need in our community a little warmer this winter. The scarves can be purchased for $10.00 each at the Downtown Chatham Centre on November 28th, 2016, from 10:30am to 9:00pm. The media are invited to attend at 11:15AM for a photo opportunity. The purchaser can choose to take the scarf with them or donate the scarf to a client from our ACW Chatham satellite office. As a 'Thank You' for your generous donation, the Subway located in the Downtown Chatham Centre has partnered with us to provide a free sandwich to everyone that purchases a scarf that day.
WINDSOR-ESSEX
Face of HIV Art Unveiling
EVERYONE is the face of HIV. Many people think HIV only impacts certain people, but the reality is that HIV impacts everyone. HIV does not discriminate against age, class, race, gender, religion, or sexual orientation. It captures everyone and it takes a community to end HIV stigma. It's time for each of us to recognize our role in ending stigma and stopping the spread of HIV. Approximately 710 people in Windsor-Essex and Chatham-Kent live with HIV. The ACW has collected 710 photographs of people in our community who are living with, impacted by, or supporting someone with HIV, either personally or professionally. These photos have been used to create a unique art piece that will be displayed at Bike Windsor Essex, at 101 University Avenue West, on December 1st and 2nd.
Thursday December 1st
Friday December 2nd
11:00am – 4:00pm & 7:00pm – 8:00pm (Public)
11:00am – 4:00pm (Public)
7:00pm – 11:00pm (Public)
Candlelight Vigil & Procession
In recognition of World AIDS Day, the ACW will once again be hosting a Community Vigil at the Capitol Theatre. The Candlelight processional walk will embark at 6:00pm from the ACW, located at 511 Pelissier Street, to the Capitol Theatre. Candles will be provided. Capitol Theatre doors open at 6:00pm with the ceremony to occur from 6:15pm to 7:00pm. Following the processional, the ACW will be providing a space for community members to come together to acknowledge World AIDS Day and commemorate those whose lives have been lost to an AIDS related illness, and to celebrate those who continue to live with HIV today. This will be a short ceremony with a brief welcome from the Executive Director and Board President followed by "Honouring our Losses, Remembrance Hope – Candle Lighting Ceremony". There will also be poinsettias available where individuals can tie holiday messages for loved ones. Following the ceremony, there will be light refreshment and fellowship.
Location
AIDS Committee of Windsor
511 Pelissier St.
Windsor, Ontario