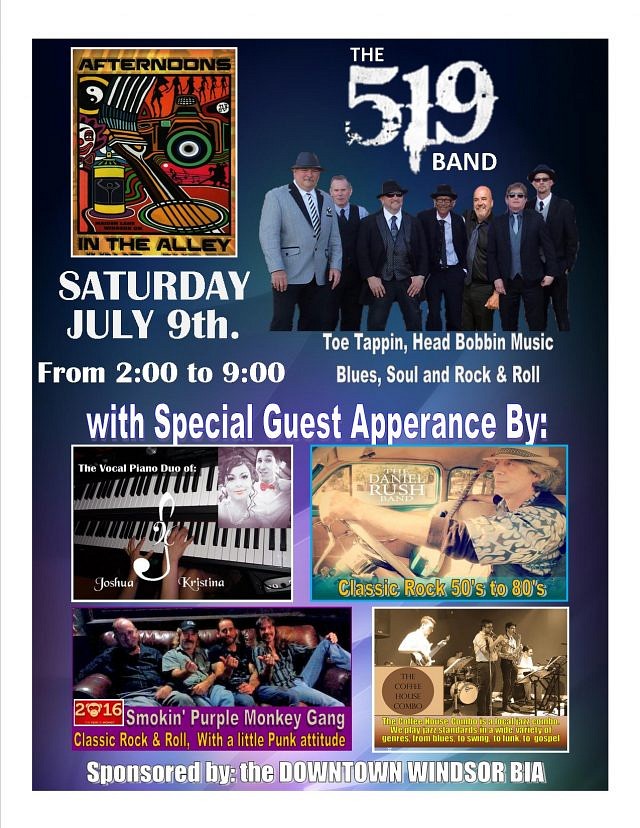 The 519 BAND at "AFTERNOONS IN THE ALLEY" in support of
"MISSION: It's POSSIBLE II" & the DOWNTOWN WINDSOR BIA
Windsor's Blues Champions, The 519 Band, are once again "Taking Pause for the Cause" and are putting on an all age's Family event to promote local talent as well as a fundraiser to support The Downtown Mission Of Windsor.
This is the 2nd in a series of fundraisers for THE DOWNTOWN MISSION. Our goal is to spread awareness and support for the great work the Mission does in our community. This is a FREE concert to benifit their efforts. THE DOWNTOWN MISSION will be on hand to accept any Cash Donations as well as canned food or to answer any questions.
Come on down to AFTERNOONS IN THE ALLEY on Saturday July 9th. This is going to be a Fantastic event starting at 2:00 PM until 9:00 PM, featuring Special guest's appearance by, The Smoking Purple Monkeys, Joshua+Kristina, Daniel Rush Band and other Amazing local Talent including "The Coffee House Combo". More to follow! What a great way to check out The 519 Band right before Bluesfest Weekend!
This is just one of the events being sponsored by your Downtown Windsor BIA at 1 Maiden Lane. Come out for a Great time!
Location
Maiden Lane Alley
1 Maiden Lane
Windsor, Ontario