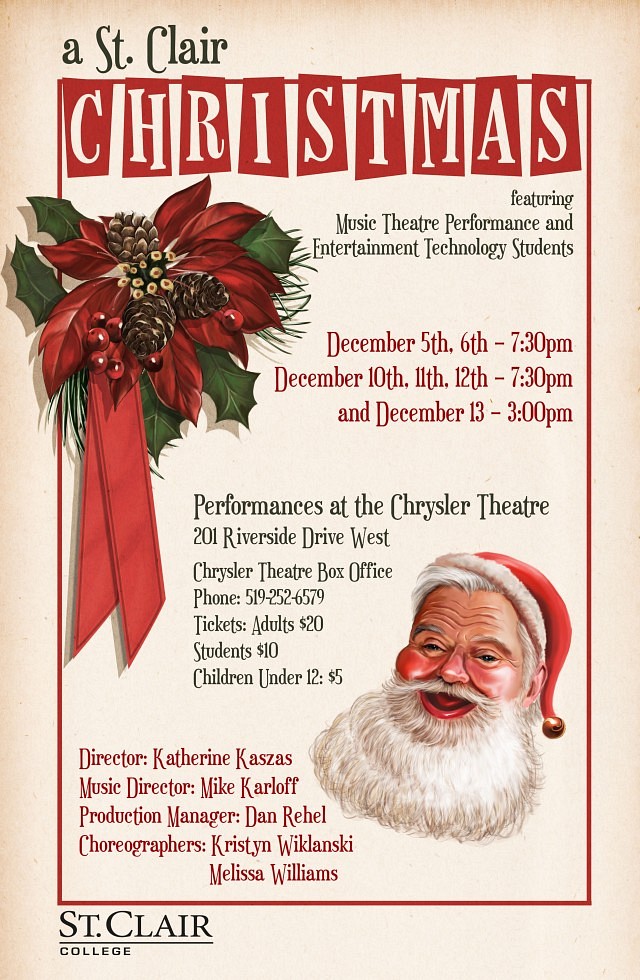 Holiday hi jinks abound in this explosively entertaining musical theatre adventure from St. Clair College's Performing Arts department. A zany and magical adventure, A St. Clair Christmas 2014 is the event of the holiday season. This festive tradition has become a staple of Christmas cheer within the community, sure to entertain and amaze audiences of all ages.
Featuring an eclectic seasonal score packed with traditional and contemporary Christmas melodies, stunningly creative choreography, Performances from the talent students of the Music Theatre Performance Program and set, lighting and special effects from the groundbreaking Entertainment Technology program, the sights and sounds of this production are sure to amaze.
Visit Santa's Workshop a whole new way this Christmas, with A St. Clair Christmas at the St. Clair Center for the Arts. Tickets are on sale now!
A St. Clair Christmas 2014
December 5, 6, 10, 11 & 12 7:30 pm.
December 13 Matinee -3 pm.
Director: Katherine Kaszas Musical Director: Mike Karloff
Production Manager: Dan Rehel
Stage Manager: Valerie Bonasso
Choreography by: Kristyn Wiklanski & Melissa Williams
Costume Design by: Agatha Knelsen
Lighting Design by: Siobhan Sleath
The Chrysler Theatre St. Clair College Centre for the Arts, 201 Riverside Drive West, Windsor, ON
Purchase tickets through the box office: 519-252-6579 or 1-800-387-9181
Tickets $20. Students: $10. Children under 12: $5.
Location
The Chrysler Theatre - St. Clair Centre for the Arts
201 Riverside Drive West
Windsor, Ontario