Date
Sunday September 15th, 2019
Time
12:00pm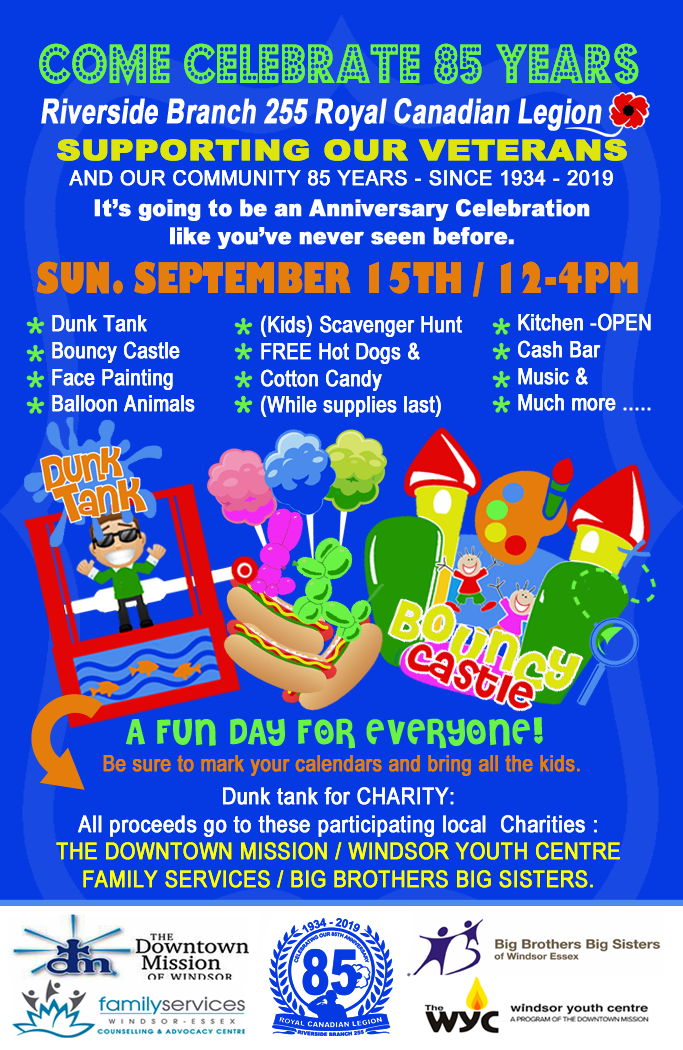 Join the RIVERSIDE ROYAL CANADIAN LEGION BRANCH 255 as we celebrate our 85 Year Anniversary Supporting our Veterans and our Community since 1934…. It's a big Family day extravaganza , on Sunday September 15th from 12-4 pm. Come one, Come all and bring your kids, family and friends !!!
During our 85 year Anniversary Celebration be sure to support local charities by dunking a popular Charity Leader during their prospective hour in our Charity Dunk Tank.A huge thank you to these charities for being such good sports and participating:
– Family Services Windsor-Essex ( dunk tank participant TBA ) will be in the tank from 12-1 pm
– GREG ROY from the Windsor Youth Centre will be in the tank from 1-2 pm
– RON DUNN from the Windsor Downtown Mission – DTM will be in the tank From 2-3 pm
– BECKY PARENT from Big Brothers Big Sisters Windsor Essex will be in the tank from 3-4 pm
Balls are minimum donation of $2 for one ball or a minimum donation of $5 for 3 balls. All proceeds will go to the charity in the dunk tank during their hour. Please be generous and support these great charities. It's going to be fun.