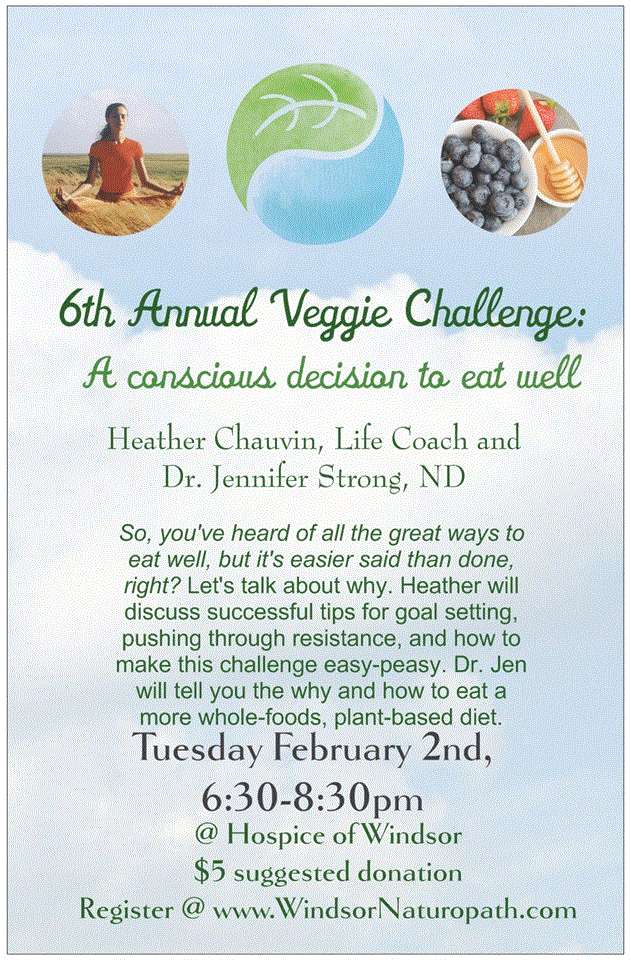 Dr. Jennifer Strong, ND, and Heather Chauvin, Life Coach, are teaming together to provide Windsor/Essex County a chance to learn more about achieving a healthy relationship with food. Each year Dr. Strong provides a workshop to the public to encourage awareness of plant based eating, and bring together community resources such as restaurants and related health professionals, to make the journey more achievable. This year's topic focuses on the 'why and how' we make food decisions, and how to improve on them. All proceeds benefit the Hospice of Windsor.
To register, participants can visit www.WindsorNaturopath.com/Veggie_Challenge_Registration.
Heather Chauvin is known for her no BS approach, life strategy and action accountability. Her mission is to crack women open to their deepest potential and lead the life their soul craves. With wit and wisdom, Heather inspires women to take back control of how they want to lead, work, play and parent.
Dr. Strong ND is a mom, a foodie, and super-passionate about healthy eating that is do-able for everyone. One of her many passions lies in digestive health and utilizing food as medicine. She has been practicing Naturopathic Medicine for over 8 years, and is a catalyst for Windsor-Essex to move towards a healthier community.
Location
Hospice of Windsor
6038 Empress Street
Windsor, Ontario